Can Museums Be Social Change Agents?
Posted by Elizabeth Alton on Friday, July 10th, 2015
What is the role of museums in the community? While many see museums as an archive for artifacts and a platform for exhibits, there is a bigger question. What kind of impact do these institutions have on the people and communities around them? One position that many museums are exploring today is the "museum as social change agent." Specifically, how much should museum programming focus on raising awareness of issues related to poverty, race, or public policy? And should institutions be taking a bigger role in public policy to try to advocate for change? Clearly, there's no one right answer, but it's a challenge many museums are grappling with. In fact, it's so significant that it was a major focus of this year's American Alliance of Museums (AAM) annual meeting.
Consider the following session description from the AAM meeting: "Faced with complex societal challenges, museums in Europe and around the world increasingly feel the need to redefine their public value and take action to maximize their social impact by contributing to individual and collective well-being, promoting social justice and building cohesive communities. Embracing a "new" role as active social agents also entails communicating this role to various stakeholders and influencing public policy process." It does a terrific job of encapsulating the challenges that many museums are facing and their desire for a larger voice in today's most pressing social issues.
The AAM panel "Museum Pride: the Social Role of Museums in LGBTQ Advocacy" explored case studies of how museums have tackled issues around the LGBTQ community and their fight for both legal rights and wider acceptance. Four case studies were looked at including "Revealing Queer" at the Museum of History & Industry and the larger "Queering the Museum" project. There was also input from professionals throughout the museum world whose core roles focus on engaging in dialogue with underserved members of the community.
Another session looked at how an exhibit about torture made an impact at the San Diego Museum of Man. "How a Terrible Topic Made Our Museum a Better Place" explored the process that the museum used to develop and execute this important exhibit. The case study looked at "Instruments of Torture" and how tackling this difficult topic created new interest in the museum, enabled them to build important outside partnerships, and connected the exhibit to their deeper mission.
Other case studies scattered throughout the event considered the role of a museum project in healing the dialogue around AIDS in South Africa; the Physiotherapy Art Tour and Pre-op Art Distraction programs at hospitals in London; and museums' role in capturing oral histories and dance traditions that are fast being lost around the globe. There were sessions on who really owns the data used to craft stories and what radical inclusion means in a socially-aware museum context.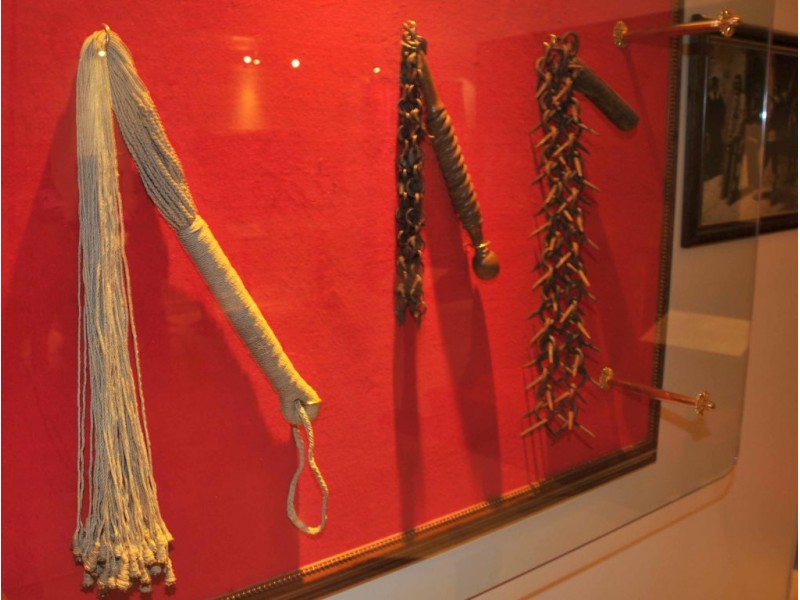 From the wide diversity of programs explored one thing is clear: the question isn't really whether museums should engage with social issues. That's already being done on a wide scale. The question is more anchored around the importance of how museums can do it in a thoughtful way. In a word, what does it really mean for a museum to be a social change agent?
There are several big takeaways that can help museum leaders thinking through these issues. The first and perhaps most important point is to have a strategic plan. What is your organizational mission? What's happening in the world that you have a unique perspective on and can highlight? The most compelling socially-focused exhibits have a contextual connection to the institution itself. Whether it's drawing on collections or establishing a unique curatorial voice, museums should focus on what they are specifically positioned to say. By tying exhibit development into your bigger mission, you're best able to select and prioritize content that makes sense for your audiences.
Another underlying theme that came up again and again is the importance of metrics. Good intentions and the desire to make a difference abound in the museum world. But the ability to structure exhibits so that they're measurable and then determine if they've had the desired impact will allow museums to continuously innovate on how they create exhibits. Building in evaluation starts with exhibit creation and moves from there.
Co-creation with the community is another important aspect of socially-oriented exhibit creation. Specifically, how can the museum engage members of affected communities into the narrative of exhibits? Many different elements were shown, from having them consult on exhibit design to being featured stories within the context of exhibits themselves.
War, disease, poverty, racial issues, animal abuse and disenfranchisement are just a few of the issues that we're wrestling with in today's complex world. Finding a way into a meaningful dialogue around these topics is difficult. Yet raising awareness and looking at solutions is critical to society's evolution. Museums play an important role as platforms where rich discussions can happen, with an eye toward long-term societal impact.