The Sound of Theming: Creating the Soundtracks to Visitor Experiences
Posted by Sasha on Monday, July 6th, 2015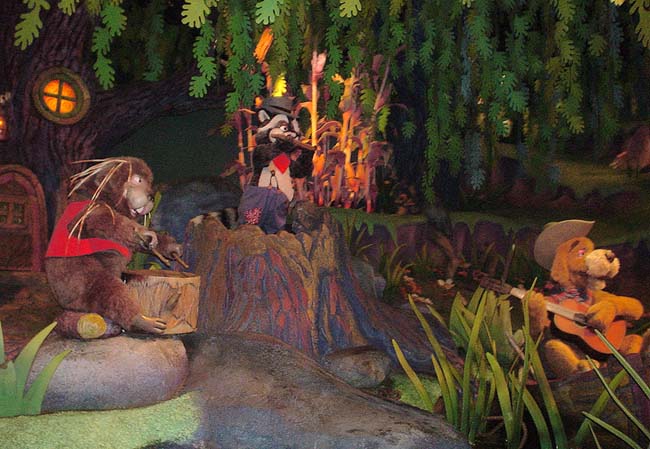 After a visit to a Disney theme park, chances are that the soundtrack in your head goes something like this: "Yo ho, yo ho…Zip-a-Dee-Doo-Dah…iiiit's a Smaall World aafter all." It's nearly impossible to experience Disney attractions and not have at least one theme song mentally stuck on repeat. These theme songs are just as iconic as the attractions they bring to life, and endure long after the park visit is over. Just like film soundtracks, the musical scores and songs in theme park attractions are an integral part of the experience, weaving together plot points, setting the mood, and influencing visitors to feel a certain way.
Disney and the Power of Music to Build Story
No one understands more about the importance of music than Disney. While Frozen was a box office juggernaut by any standard, its greatest success was the song "Let It Go." By April 2015, the film's iconic soundtrack had sold 4 million copies globally and the centerpiece song had gone platinum.
Daren Ulmer, principal at Arc Thematic and founder of its Mousetrappe media studio, spent his early career as music manager at Disneyland. His views on Frozen put the entertainment design value of music into context:
"Disney music is arguably one of the biggest assets that the company has," says Ulmer. "When you look at what Frozen does for the company as a whole, it goes so much beyond its direct film revenues. Without successful properties like that you don't end up with the enduring park attractions. And those attractions don't have as much meaning without the music. Let It Go has become so far-reaching."
He goes on, "Music is part of the core DNA of Disney, which has an unmatched library of assets – there's a song for everything."
Dan Stamper is a Senior Music Producer at Disney. His work involves building a music team "responsible for any noises in productions" including parades, stage shows, fireworks shows, meet-and-greets, background music, voiceovers, and TV specials. "It's important that songs are simple enough to be catchy, yet rich enough to last for generations and transcend any trends. And these songs can exist beyond their respective productions and have a life of their own, becoming relevant to other life situations," says Stamper.
But what about attraction soundtracks that don't have song lyrics? Instrumental soundtracks in physical spaces may not be platinum hits, but they are just as crucial to the success of a visitor experience. Music producer Jon Baker points out, "As our world gets smaller, we have to tell stories that aren't driven completely by language. Guests come from all over the world and attractions are being built more and more in non-English speaking countries, so the onus is shifting to non-language components of storytelling. Music and sound design help tell the story and make the emotional connection. If you take away the dialogue or narration, the guests still need to understand the story."
The Role of the Music Producer
What role do music producers take in attraction design, and how do they balance the technical and creative? Jon Baker is a music producer, composer, and songwriter whose work has been heard from Universal Studios to the Kennedy Space Center.
He describes his job in the following way: "The role of music/audio producer is about guaranteeing the integrity and authenticity of the creative vision in the final soundtrack," says Baker. He goes on to outline that a good musical director has the resources to realize whatever their clients dream up.
The earlier in the process a music producer's involvement starts, the better – for both technical and creative reasons. "Getting the music/audio producer on board early is important not only for the creative needs of the project, but also to ensure that the sound system is being designed to support the audio component of the creative vision," says Baker.
The list of tasks that a music producer oversees is lengthy, and includes everything from generating song and cue lists to writing lyrics to composing instrumentals. Often, Baker composes demos on his computer, which are later orchestrated and recorded with live musicians. Once a client approves the demos, he oversees the actual production by bringing in talent to arrange, orchestrate, perform, record, and mix each piece of music. In certain cases, he uses songs already created or owned by the client and works them into the production.
"Once post production begins, the final product — be it a parade song, dark ride soundtrack, or film soundtrack — has to be assembled and prepared for the final on-site mix. At this point in the process it's very important to have a technical awareness of the final venue," Baker explains.
How Music Shapes Theme Parks
Music plays a critical role in shaping the theme park experience, coordinating with other elements such as lighting, scenic environments, and costumes to support theming. Ulmer suggests that there are three primary kinds of music that help create the theme park sound experience:
1) Background or area music
This helps set the mood and communicate transitions. For example, there are places in Disneyland where you can hear a subtle music shift while traveling from one land to another.
"When done really well, area music is like the visual effect that goes unnoticed. It shouldn't draw attention to itself. In a subconscious way, it places you in a moment of time and place. Area music is a roadmap to helping guests feel a certain way and should be natural and authentic," says Ulmer.
2) Attraction Music
Attraction music is more about bringing the story of a specific ride to life. Ulmer elaborates: "If you replaced 'Yo Ho' with a Hanz Zimmer piece, suddenly Pirates of the Caribbean becomes a much darker ride. With 'Yo Ho' as the soundtrack, scenes of drunk bad guys are endearing. The Haunted Mansion is similar: 'Grim Grinning Ghosts' relieves the tension of what could be a dark subject, making the ghosts seem silly rather than scary.
Like a good film score, attraction music should weave in and out of the story and help guests know how to feel. It acts as a guideline, sometimes as a supporting role and sometimes to drive the entire experience, like in thrill rides such as Indiana Jones."
3) Show music
Show music is used in parades, fireworks extravaganzas, stage shows, and other live performances. This type of music acts as a key driver of story, playing mostly in the foreground of the experience. A classic example is Disney's Main Street Electrical Parade, a beautiful display of lights that would be far less dynamic without its familiar soundtrack.
For show music, an important factor to remember is scale. Successful music, even in the Disney context, requires knowing just how much you need. Stamper emphasizes, "We have to be careful to not always have these bigger-than-life sounding spectaculars. Though there is an expectation that the Disney Sound is a huge orchestra and choir, sometimes an Acapella Vocal or a simple melody on a flute is all you need."
Music and Live Attraction Design
Parades are some of the most musically challenging and technically demanding attractions. They're an excellent lens through which to examine the creativity, technical prowess, and attention to detail needed to use music successfully in a live event.
In parades, scores are made up of background and foreground music. The background or underliner piece provides continuity and plays through speakers along the parade route, around the audience. The foreground music emanates from the passing floats, which adds variation to the underliner music. From a technical perspective, parades often require the production of multiple synchronous soundtracks to achieve this interplay of background and foreground sounds.
Perhaps no one is better positioned to speak to parades than Don Dorsey. Dorsey began working on the Main Street Electrical Parade in the early 1970s.
He describes the importance of creating parade music that both surrounds the audience and moves through the environment via floats. "Audiences have come to expect very vivid experiences both visually and sonically. Concerts and movies provide 'larger than life' experiences, and parades without amplified sound reinforcement somehow seem merely life-size. To stay competitive with expectations, we have to aim for those same kind of immersive experiences with parade sound," says Dorsey.
Designing parade routes and thinking through speaker placement is an essential part of getting the parade experience right, as Dorsey describes: "In my mind, the parade route is a bit like a movie multiplex; there are many 'theaters' showing the same 'movie,' but each one starts at a different time as the parade arrives in each area. Coordinating all those arrivals means keeping an overall perspective of what has to happen where and when, and mapping that all out ahead of time."
The technical layout of the sound system plays a critical role in this process. Beyond mapping the parade route as a series of theaters, systems have to use networks of hundreds of speakers that are activated through audio routing and queuing systems. Big picture design thinking for parades is underscored by an unwavering attention to the smallest details.
The biggest challenge around parade design is getting the timing right, says Dorsey. "Making good decisions about time is the main challenge. Every aspect of parade coordination has a critical time component that must be understood and managed. If the music loop is too short, the guests hear the same thing over and over. Too long and they never get a complete, satisfying routine. This intersects with the pace and flow of the floats; too fast and guests can't get full appreciation of the visual design. Too slow and they may get frustrated waiting for the next one to come along. It's basically a big time puzzle that has to be designed and solved for the particular creative requirements."
Music in Other Entertainment Contexts
Designers face similar challenges deploying music in other visitor experiences. One of the most important factors, according to Ulmer, is nostalgia. "If a theme song is going to be successful, it needs to capture an audience's sense of nostalgia. To trigger nostalgia, the audience needs to connect with the theme song quickly so that when the finale moment occurs, the music achieves maximum impact," he explains.
In the film experience Beyond All Boundaries developed for the National World War II Museum, Ulmer wanted a melody that was strong enough to anchor people quickly and pay off where it needed to: "The theme music carries through the walk-in, to pre-show, to early in the film so that when the film's finale hits, it triggers that nostalgia, memory, and emotional sense," says Ulmer.
When guests walk into the waiting area for Beyond All Boundaries, 1940's radio music plays in the background, which is a big band arrangement of the main theme music. This is the audience's first introduction to the theme song. Before guests are even conscious that they are hearing the main song, they are getting early exposure. The theme music is spread across different spaces as a choreographed, spatial build-up for the audience leading to the film's finale.
***
The next time you visit a familiar attraction, see what it's like to plug your ears for a few seconds. The visuals may still tell a good story, but without the rise and fall of the soundtrack, the attraction will likely lack depth and drama. Visual technology is always evolving and quickly becomes outdated, but the fundamentals of good music design never change. At the end of the day, you may not remember all the lyrics or bars of music, but you'll remember how they made you feel.
Images sourced courtesy of the Walt Disney Company (all copyrights reserved); Theme Park Review; Viral Nova; Wikimedia; Dueling Sound Forums, The WWII Museum, Flickr, Groucho.org
One response to "The Sound of Theming: Creating the Soundtracks to Visitor Experiences"