Thea Awards 2014 Recap: Behind The Scenes Of This Year's Top Attractions
Posted by Sasha on Wednesday, April 9th, 2014
The Themed Entertainment Association's red carpet awards may not have the Oscars' haute couture fashion and big name stars, but it does have something the Academy Awards doesn't: a day devoted to learning how each award-winning project was created.
For any creative industry, learning from peers is key to innovation. While some might have you believe that the best ideas come from working in a vacuum where everything is kept secret, this is not really the case. Themed entertainment, like most creative industries, relies on collaboration both within and between teams. The process of creating visitor attractions can often be a bumpier ride than the resulting projects and the lessons learned from previous teams are invaluable. Not to mention, there is rarely a repeat project in themed entertainment, and even when duplicate attractions are made, the environment and logistics of the park in which it is built pose brand new challenges. For these reasons, most members of the industry understand that the more we can share our knowledge with each other, the stronger our collective abilities become.
Here are some takeaways from Summit Day 2 last week, where Thea Award recipients shared wisdom from their unique journeys, shedding light on interesting challenges and behind-the-scenes stories:
Garner Holt (Buzz Price Lifetime Achievement Award)

A true robotics genius, Garner Holt built his first animatronic robot using pieces of fence posts at the age of 14. His robotic figure debuted at the local mall and eventually got the attention of Imagineering. Holt interviewed with the Imagineers but wasn't hired so he continued on the path of entrepreneurship, turning to Imagineering technical guru Bob Gurr for help when projects started growing in size. Fast forward to today: Garner Holt Productions has produced over 5,000 Audio-Animatronic figures, over 400 of them for Disney theme parks. In 2012, Garner Holt Productions inherited Imagineering's entire stock of Audio-Animatronics when Disney shut down MAPO, the division responsible for creating robotic characters. Not only did Disney hand over all its parts and figures, it also turned over Disney Audio-Animatronics manufacturing to Garner's company.
The big takeaway? Sometimes the imagined end goal isn't the real opportunity. In Garner Holt's case, working at Imagineering seemed like the holy grail to him as a teenager, but in forging his own path he not only rivaled Imagineering's Audio-Animatronics efforts, he absorbed their entire division! What we're all wondering now is whether Garner's next plan is to take over the world with his army of Chuck E. Cheese figures…
Polynesian Cultural Center – Oahu, Hawaii 
It's not easy to create a lasting cultural center that people a) want to visit in the first place and b) want to visit again. The PCC recognized that it lacked a "wow" factor and had aging facilities, which can discourage repeat visits and make for a snore-worthy experience. The PCC's first phase in revitalizing its offerings included revamping the cinema and banquet hall. There are also plans in the works to add a themed shopping and entertainment destination. As PCC President Alfred Grace stated last week, "Even though the PCC is the highest paid attraction in Hawaii, we can't be comfortable just being good, because good is the enemy of great." One of the biggest challenges to revitalizing a cultural center is determining how far to push the creative vision without straying from the cultural mission. The tension between generating repeat visits and maintaining cultural authenticity is a delicate struggle, one that the PCC seems to have navigated with poise. As Grace emphasized, "Culture is not an excuse for themed entertainment; theming must evolve from the culture itself."
Interesting aside: Did you know that sound can move a building?? During sound tests for the new PCC theater, the loudest sound setting was strong enough to actually move and bend the walls!
De Vuurproef ("The Fire Test"), The Dutch Railway Museum – Utrecht, Netherlands
It's amazing what a team can accomplish with the right attitude. From the minute that the spunky, humorous director Paul Van Vlijmen stepped onstage, it was clear that De Vuurproef's success was a result of the small team's unique optimism and ingenuity.
The mighty team of 5 produced an attraction that satisfies the following requirements:
-Handicap accessible
-Finished on time
-Accommodates 300 people per hour
-Encourages people to visit and return to the Railway Museum
-Stays within a budget of $2 million
Very few museums deign to undertake a theme park-like attraction for fear that it will detract from the educational value and the overall experience. De Vuurproef proves that an elegantly executed attraction can enhance a museum's educational message while generating excitement about what might be considered a boring topic. Evelien Pieterse, De Vuurproef's Project Leader, pointed out the themed entertainment conventions that the team made sure to implement:
1. A pre-show with a story twist
2. Videos and narration using famous actors
3. Motion (moving theater seats)
4. Interactivity (or at least the illusion of control over the ride simulation journey)
5. A themed atmosphere (Steampunk, in De Vuurproef's case)
The result was an attraction that not only earned the praise of visitors, but increased their love of the entire museum.
The Song of an Angel – Universal Studios Japan
What's interesting about this show is its ability to tell a Western-themed love story that resonates with an Eastern audience. The team had to navigate language barriers and cultural differences to identify what symbols and theming would connote Western romance (i.e., Paris and New York) to create a larger-than-life love story.
Executive Producer Mike Davis highlighted an interesting cultural difference between the U.S. and Japan: in Song of an Angel, guests interact with the show by holding "candles" that light up at a pivotal moment in the show. The loss rate of the candles was only 1%, indicating that very few Japanese visitors pocketed their candles. When you ask Japanese audiences to return something, they generally do (unlike American audiences).
A takeaway lesson from this presentation is the importance of designing a versatile show space. When a show space is not being used, it should not appear secondary to the rest of the park. Song of an Angel takes place at night, but during the day the show space blends seamlessly with the rest of the park.
Michael Jackson One – Mandalay Bay, Las Vegas
While this Cirque du Soleil show is impressive in its integration of performers, set design and special effects, what was most striking about the Michael Jackson One presentation was Director of Creation Wembly Altidor's wisdom as a creative team leader.

He shared the following leadership principles:
1. Factor in failure: present your work early and deliberately expose it to criticism. Then learn from it!
2. Don't ask for permission, but be willing to ask for forgiveness
3. BE DUMB! (Ask dumb questions every day)
4. Break rules, but not your principles
Revolution Tru-Trackless Ride System by Oceaneering
Those of us who aren't engineers can easily take for granted how complicated and difficult it is to invent new technology. Oceaneering's road to winning a Thea Award for their new ride system may seem too technical for creative types to learn from, but the challenges they faced are surprisingly universal: Power, Navigation and Communication.
When you take the track out of a ride, engineers lose the ability to power the ride vehicle, direct its movement, and tell it where to go and when to do what. Solving these problems, which is what Oceaneering did with its Tru-Trackless Ride System, grants much more flexibility in ride design, allowing for continuous loading (ride cars can leave the station as soon as they are full instead of waiting for the whole lineup of cars to be ready) and more variability in the ride experience (each car can be programmed to have different movements and go to different rooms).
Marine Worlds Carousel – Les Machines de I'lle, Nantes, France
This whimsical carousel reflects the importance of locational context: its Jules Verne-esque style reminds visitors that Jules Verne spent his childhood in Nantes, and the inventive sea creature pods of the carousel reflect Nantes' history of shipbuilding and proximity to the ocean. Unlike traditional theme parks, Les Machines de L'Ile is part of the urban infrastructure; visitors can buy a ticket to ride the mechanical contraptions, but they can also check out the attractions or watch new inventions being built in a live workshop without paying an admission fee.
Titanic Belfast – Northern Ireland
Tim Husbands, CEO of Titanic Belfast, shared the following project lessons:
Beyond the above, what we learned from Husbands' presentation is that Titanic Belfast is much more than a well-executed visitor center. Aside from its themed entertainment accomplishments, it goes far beyond its walls, giving immense pride to the local community and situating Belfast within the larger context of Titanic history and European tourist destinations. Having a visitor destination to be proud of inaugurates cities into the realm of cultural and historical significance.
The Mind Museum – Taguig City, Philippines 
The Mind Museum is living proof that science is playful, naturally lending itself to interactive experiences. Equally playful is Curator and spark plug Maria Isabel Garcia, who shared stories and design lessons from creating the Mind Museum:
–    Garcia had to educate her staff about science as they created the museum: when fabricators were building a model of the solar system, the planets were swinging loosely because the staff did not fully understand the effects of gravity.
–    In direct contradiction to Tim Husbands' advice from Titanic Belfast, Garcia urged Summit attendees to take chances on inexperienced vendors, as they can sometimes offer a more novel and unexpected product than the experts and aren't as ready to say "It can't be done." (Also supporting this theory is De Vuurproef, which owes its media and animation to novice companies.)
–    When dealing with science, the content must be clear, correct, and beautiful (in that order)
–    Don't ever forget your story!
Gardens by the Bay – Singapore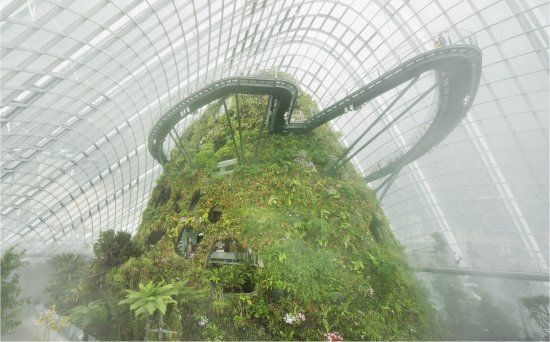 According to Dr. Kiat Tan, CEO of Gardens by the Bay, it's better to seduce kids away from their iPads with botanical wonders than try to channel their attention into yet another app. With Gardens by the Bay, Dr. Tan didn't make assumptions about what would interest people in this vast botanical world. He began by turning to the public to find out what they wanted. Their feedback was something colorful, cheap, and tropical.
Even though Gardens by the Bay is a botanical garden, it showcases some incredible architectural feats: the Flower Dome is the world's largest columnless greenhouse, meaning that it has no interior supports. The exterior support also manages to cast very few shadows inside the greenhouse. This visitor experience shows us that man-made wonders can be surprisingly natural.
Enchanted Tales with Belle – Magic Kingdom Park, Walt Disney World Resort


Chris Beatty and Jon Georges of Walt Disney Imagineering gave us insight into how Enchanted Tales with Belle was created, citing the importance of playtesting. Despite the simplicity of early playtests, which relied on cardboard cutouts of Beauty and the Beast characters, the interactive storytelling had a profound effect on guests. As one young playtest participant exited, she called out, "Goodbye Lumiere!" even though Lumiere was just a cardboard figure on a stick. To accomplish these playtests, Imagineering relied on Disney park operations, set designers, and guests. As Beatty exclaimed, "It takes a village!"
Mystic Manor – Hong Kong Disneyland


As Entertainment Designer already explored in its interview with show producer Mark Schirmer of Walt Disney Imagineering, the challenges associated with producing this dark ride involved creating a show that could tell a story to audiences of multiple languages and dialects. Everything from the queue line and pre-show to the actual ride has little to no dialogue and relies largely on artwork, scenography, figures and effects to depict the story and character relationships. Another major player in telling the story is the music, composed by Danny Elfman. Like any movie, a ride's tone and emotional impact is dependent on sound effects and music.
Joe Rohde, Creative Executive at Walt Disney Imagineering (Thea Award Lifetime Honoree)
We ended the day with a worldview-altering presentation from Joe Rohde, ever the adventurer, who is part of the Explorer's Club (not a pretend Disney concept, a real-life organization of world travelers). Joe shared stories from his recent trek through Mongolia to paint landscapes and help protect snow leopards from extinction. He left us with these words of wisdom, which made a bigger impact coming from his authentic experiences (as opposed to a book of quotes or inspirational posters):
1. You can create adventure by setting out to go sideways
2. Find the magic within the limitations: Joe made his own paint brushes in the wilderness of Mongolia, which posed certain artistic challenges. Joe worked with the brushes' faults and created something new and different as a result.
3. When you work with others, it changes what you thought you'd do: Joe's Mongolian guides and travel companions created an art gallery of his work in a yurt, which is not what he intended, but he was surprised to find that it sparked interest in the locals.
4. Camels are the original trackless ride system
We left Summit Day 2 thoroughly entertained and enlightened. For the most part, the speakers were all natural storytellers. And while many of us are now more motivated than ever to create the next great themed attraction, some of us will seek more inspiration out in the world. Perhaps we'll make like Joe Rohde and ride some camels off into the sunset.

Images courtesy of the TEA
2 responses to "Thea Awards 2014 Recap: Behind The Scenes Of This Year's Top Attractions"