Themed Polar Express Train Ride Brings Christmas to Life
Posted by Rachel S on Tuesday, December 10th, 2013
If you've seen the fantastic Christmas film Polar Express, you know how enchanting the message is – to keep children believing in Santa Claus and the magic of the holiday. And now a number of historic railroads around the US are bringing the cinematic spectacular to a track near you with authentic Polar Express experience rides. Last year, more than half a million people grabbed a golden ticket and hopped aboard.
Versions of the experience have cropped up all around the country at more than 30 different locations in the US, two in Canada and one in the UK. Developed in concert with Warner Brothers, the events were designed by Rail Events, Inc. If you haven't seen the film, it's well worth watching and if you plan on buying tickets for the Polar Express ride, I recommend viewing it before you hit the rails.
The story is about a boy that doubts the existence of Santa but gets a ticket to board an extra special train ride on Christmas Eve that changes him forever. He heads to the North Pole on the train accompanied by other young doubters – each with their own back story. The journey is fraught with both fun and danger and culminates in a meeting with Santa that restores their faith in Christmas.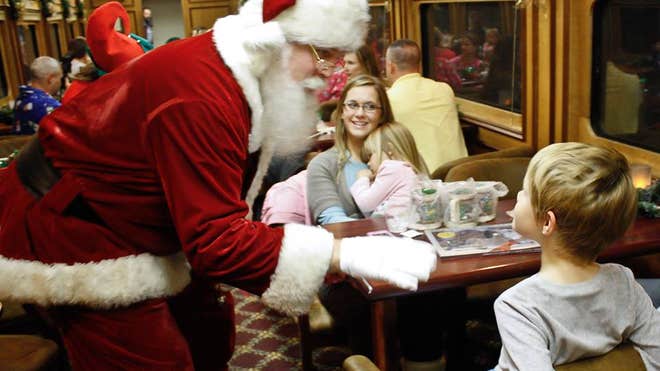 The rides offer an on-board reading of the story and activities that resonate some of the movie events. And if you've never ridden in a passenger rail car, it's just darn cool. Little riders are encouraged to dress in their PJs as did the kids in the movies. Adults are also welcome in PJs as well (as long as you keep them PG).
The journey lasts 60 minutes or more depending on the location – which is a bona fide treat. I paid $40 a ticket for a Thomas the Tank ride that took us out two miles and then straight back and lasted less than half an hour. My son was disappointed to the point of tears. The Polar Express journey, by comparison, is an actual trip. An hour on the train is enough to generate thrills without wearing the wee ones out to the point that they become terrors…
After the conductor calls "All Aboard" you'll hop on, meet characters from the movie and then roll to the Pole where you'll pick up Santa and spend time with him on the return journey. Ticket prices vary widely based on location and can run anywhere from $16 for kids to $55 for adults. Supplemental activities are available at the railway stations and include the obligatory over-priced shopping tent, but the movie-inspired merch is pretty cool.
All the kids are gifted with a golden bell from Santa – as in the movie – to remind them to keep their Christmas dreams alive. If you and your kids are fans of the film or are just train enthusiasts in general, check out a Polar Express ride this holiday season. Click here to see if there's a location near you and purchase tickets. Tickets sell out shockingly fast so if you want to ride, don't hesitate or you may end up on Santa's naughty list…
image sources: STAAcademy.org, FoxNews.com, Durango.org, ChicTraveler.com, LubbockOnline.com, About.com