Urban Putt Brings Sophisticated Indoor Mini Golf to the Mission with San Francisco Flair
Posted by Rachel S on Thursday, May 8th, 2014

Urban Putt is a one-of-a-kind mini golf attraction just opened in the Mission district of San Francisco, featuring mini links modeled on San Francisco events, icons and architecture. Not only is it the only putt putt in the city, but it's got so much panache you won't be able to resist a turn on the greens. First of all, it's indoors. Second of all, you can nosh while you golf (yeah!). Third, the course is replete with designs that will be near and dear to your heart. This isn't your father's generic green humorless putt putt.
There are 14 holes conceived by owner Steve Fox, a lover of the pint sized sport and a former techno journalist. Fox brought in engineers, artists and robotic experts to design the venue. The holes range from artsy to steampunk inspired and include many SF favorites. You may not be able to focus on your handicap you'll be so distracted by the fanciful designs and all their moving parts.
The course includes a Dia de los Muertos hole and another that's Rube Goldberg-ish featuring an Archimedes screw that lifts your ball 12 feet off the ground then drops it down to a ramp where it glides down and bounces off musical instruments so that it never plays the same tune twice. There's a video game hole where you chunk your ball in and then a video version of your ball appears on screen and a labyrinth where you use a joystick to slide your ball through a maze.
There's an earthquake hole based on the 1906 disaster complete with an earthquake simulator, an undersea hole with motion sensitive LED lighting and a cool pink octopus plus another with the TransAmerica windmill. Another hole features a carnival style game set-up with a moving duck. MAKE magazine designed hole 13 complete with their logo, three robots and a player piano.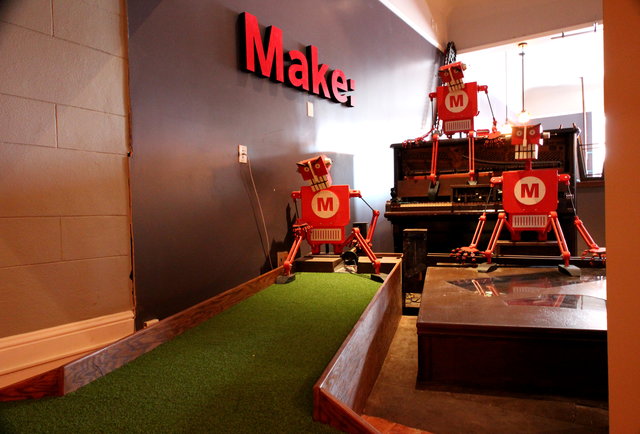 Urban Putt was funded in part on Kickstarter and described itself as a "cutting-edge jewel box of a course, located in the heart of San Francisco, that combines high artistry with motorized devices, mechanical gizmos, and the latest in high-tech to create an indoor, urbane course that will consistently amaze and entertain." Urban Putt was installed at a defunct mortuary on 22nd at South Van Ness and there's never been so much life in the place.
Several of the holes have "easter eggs" that surprise you with music and other treats. But the putt putt is just part of what you can enjoy at this funky joint. There's a lovely little restaurant that seats 70 and features Americana cuisine including deep dish cornmeal crust pizza with fancy toppings, grass fed burgers, poutine, cheese curds, mac and cheese, organic chicken meatballs and other fare described as "tasty not fussy."
In addition to the bar in the upstairs restaurant, there's also a lovely little bar on the lower level adjacent to the mini golf course. Wait staff are friendly and Urban Putt offers a nice selection of bottled and draft beers to choose from. The food is reasonably priced as is the entertainment with a round of golf running $12 for adults and $8 for kids (who, by the way, aren't allowed on the faux green past 8 pm).
Urban Putt is open Monday thru Thursday from 4 pm until midnight and til two am on Fridays. Saturday is 10 am til 2 am and Sunday is 10 til midnight. So head to the Mission and get your golf on. 
image source: TableHopper.com, DocPop.org, SFist.com, NCGA.org, SFGate.com, RedTri.com, GothamistLLC.com