Creating the Las Vegas Experience
Posted by Elizabeth Alton on Tuesday, February 24th, 2015
Sin City is one of the most evocative destinations in the world. Whether it's the glittering strip ablaze at night, the iconic "Welcome to Las Vegas" sign, or the dozens of "what happens in Vegas stays in Vegas" movies to hit the silver screen, there's just something undeniably special about it. From an entertainment design perspective, the city is evolving rapidly. There's much more to Las Vegas than the high rollers and the seedy underbelly that immediately comes to mind.
Some of the world's leading talent in show design, hospitality, innovative experience development, and dining has come together to craft an urban oasis that is, in and of itself, an experience. Here's a closer look at some of the biggest upcoming trends that key contributors to the 2015 Las Vegas Trends Report highlighted and some thoughts on what it all means for destination design.
Redefining Luxury: Vegas as an Express Destination
One concept that emerged from the report was the idea of Express Luxury. Vegas has long been a destination for quick getaways, from bachelor parties to couples escaping for private time to an easy meeting place for friends from around the country. But the challenge of the quick getaway is that it's hard to fit everything in. In response, hotels and service providers are finding ways to "focus on express luxury services….to save guests time without sacrificing indulgence," said James Mulidore, director of the Villas at the Mirage.
For example, it might be impossible to visit several restaurants during one stay; instead, the Villas offers an all-encompassing dining experience that allows guests to order individual courses from different restaurants and have them served in their suites. Spas are getting on board by combining multiple services into one time slot, so a time-pressed client gets maximum luxury and rejuvenation in a minimum amount of downtime.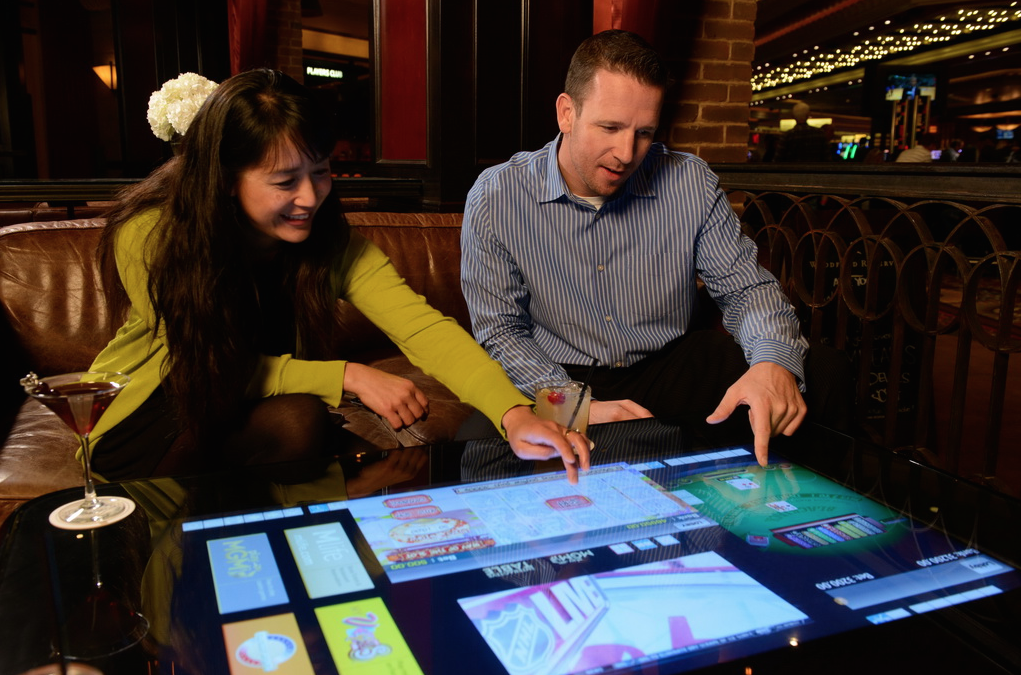 Technology Takes a Larger Stake in the Guest Experience
"We're always looking for ways to provide guests the opportunity to do things at their own pace," says Shannon McCallum, executive director of hotel operations at ARIA. "In 2015, we're looking at ways to enhance mobile capabilities even further, including services that will allow pool guests to order cocktails from their phones."
Services are debuting at several hotels throughout Las Vegas that allow guests the flexibility to book a hotel room, reserve a poolside cabana, make dinner reservations, grab tickets to a show and more from their mobile devices. It brings to mind the flexibility of Disney's MyMagic Bands, except that the mobile integration has the potential to move throughout properties around the city. If the design and execution is driven by a shared vision, mobile technology could help guests experience Las Vegas as one big mega-destination resort through the seamless integration of customer service features, reservations, and payment functionality.
At the same time, mobile technologies are influencing how hoteliers are conceptualizing the in-room guest experience. ARIA Sky Suites recently implemented Bluetooth Music Bridge, which allows guests to stream playlists wirelessly through in-room speakers. iPads in high-end suites at MGM Grand will interface with hotel departments, allowing guests to order room service, send laundry and more, says Travis Lunn, vice president of hotel operations at MGM Grand. From an experience point of view, this is just the beginning.
Technology is also changing the face of gaming in a city that's known for gambling. Table top games are quickly giving way to touch tables.  InteractivePro Tables function like large smart phones, featuring a unique interface allowing four different users to operate interactive or individual gaming screens, watch sports, access social media and more.
Hospitality Trends Yield to a New Generation
The Las Vegas hospitality scene is working hard to appeal to a new generation: Millennials.
"Millennials grew up on technology and view it as a means to navigate their world," says John Bollen, chief digital officer of MGM Resorts International. "In 2015, we will see how the impact of this group's preference for sharing experiences with their peers and need for connectivity influence everything from in-room technologies to entertainment offerings."
One area that this is affecting is the design and development of common spaces. Lobby bars are shifting into social hubs. More gaming and digital experiences are driving shared space design and layout. There's an increased focus on express offerings and faster service. While specific experiences may still take place in clearly delineated spaces – such as dancing at a nightclub – there's a whole new way of thinking about shared spaces that's influencing design in Las Vegas.
"It's about creating pockets of moments unique to the space and offering different areas for interaction – whether for business or pleasure," explains Matthew Chilton, general manager of the Delano Las Vegas.
Bringing It All Together
Reviewing the report fresh on the heels of a month spent in Las Vegas, it's easy to see these trends taking shape. In Las Vegas, there are two unique ways to experience time and space in the city. There's the experience that an individual location or attraction can offer, whether that's riding the gondolas at the Venetian, going turbo at a nearby gun range, or escaping the city to meditate and watch the wild horses wander Cold Creek.
But there's also a sense of larger master planning at play, a kind of trans-Vegas experience that gives you the sense that each hotel, attraction, and restaurant is part of a larger design and one cohesive experience that you're having. It's not completely there yet, but it's moving in that direction. As a microcosm of a city that's dedicated to pleasure, pushing boundaries, and incorporating the latest in hospitality and design, the trends that are driving Las Vegas are sure to be turning up at cities around the globe before long.
 Image sources: Wikipedia, Persuitist, SeatGeek, Luxury Travel, ARIA