Our Top 5 Favorite Sci-Fi Themed Hotels & Concepts
Posted by Elizabeth Alton on Wednesday, February 26th, 2014
If you're a fantasy fan, your favorite franchises are in favor right now at theme parks and themed hotels – from the LEGOLAND Hotel's amazing castle rooms to the Universal Studios' Harry Potter Diagon Alley expansion. But for science fiction fans, it may seem there's a bit of a creative drought going on. We've boldly gone in search of the best sci-fi themed accommodations on the market and currently under development. Here's a list of our favorites in descending order.
5. Pengheng Space Capsules Hotel in Shenzhen, China
Capsule hotels appeal to both minimalists and the budget conscious. But one recent hotel opening in China combines the spaceship tight quarters of a capsule hotel with a nearly all robot staff. Its tech-inspired aesthetic combines robots, neon lights, and metallic surfaces in an effect that's pure Jetsons. The hotel is located in Shenzhen's Bao'an District, and staffed with robots that complete a variety of tasks from check-in to security. Order dinner on in-room tablets, and it'll be delivered via a robot waiter! We love the combination of form and function, and how the futuristic theme drives hotel operations.
4. Hotel Sidi Driss in Matmata, Tunisia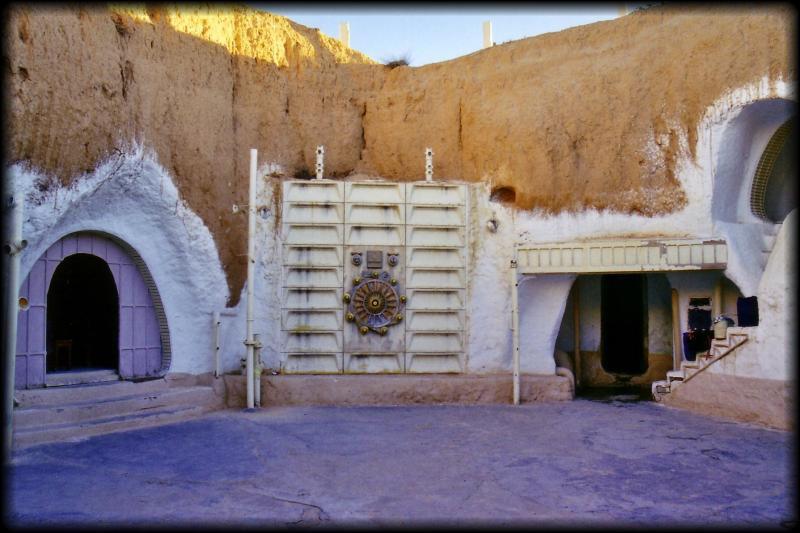 If you love the Star Wars universe, Hotel Sidi Driss is for you. Nicknamed the Star Wars Hotel, Sidi Driss was an actual filming location for the Star Wars movies. The hotel is comprised of a traditional centuries-old Berber house in Matmata, Tunias. The hotel served as the interior set of Lars' farm on Tatooine. The decorations from the film still fill the hotel, and there are four pits with sleeping rooms available. The actual location of the filming, The Star Wars pit, functions as the hotel's restaurant. What's "missing" are flashy advertisements, gift shops, and cheesy movie memorabilia. Instead, what you'll get (and what we love!) is an experience that's both rustic and authentic Tunisian and Tatooine.
3. Jules' Undersea Lodge in Key Largo, Florida
The Jules' Undersea Lodge in Key Largo goes old school, all the way back to 20,000 Leagues Under the Sea. This hotel is completely underwater and can be accessed only by guests willing to make an expert dive, outfitted in scuba gear. But for guests brave enough to make the dive, a two bedroom suite with views of stunning marine life is the payoff. The lodge began life as the La Chalupa research station. Jules' Undersea Lodge makes the list for its fully immersive (sorry, we couldn't resist!) experience for guests.
2. Space Club Lobby at the Hotel Silken Puerta America in Madrid, Spain
The Hotel Silken Puerta America in Madrid Spain is one of our favorite design and conceptual takes on a sci-fi hotel. Rather than bringing a specific franchise to list, it's more of an artistic take on the vast, cold darkness of space. The hotel actually features different themes, but the Space Club rooms by Zaha Hadid are the perfect fit for science fiction fans. Rooms are designed in strong black or white color schemes, with additional sensory experiences created by color-changing Vortexx lighting. The furniture features undulating lines that create a sense of movement and merging. We love how the modern art feel explores the concept of space in a different way than any other hotel.
1. Sci-Fi Hotel coming to the USA
Fans of Ridley Scott's Alien and its sequels know the work of H.R. Giger. The renowned Swiss artist's Necronom IV print served as the inspiration for the creature in Scott's famous sci-fi films. In fact, Scott was so intrigued by Giger's unique visual style that he hired him to be part of the Alien special effects team. Nearly 35 years later, Giger's alien will be reborn in the United States thanks to a partnership with Sci-Fi Hotel Founder Andy Davies. While the team hunts for the perfect location (is anyone else guessing Las Vegas?), the hotel will feature an official H.R. Giger bar and otherworldly artwork, futuristic architectural design, and unusual elements that pay homage to some of the most popular sci-fi literary and cinematic works. We're keeping an eye on the Sci-Fi hotel, which promises to be both a visual and experiential treat.