Downtown Disney Food Truck Festival Heralds Opening of New Food Truck Park
Posted by Elizabeth Alton on Wednesday, June 18th, 2014
Food trucks are a trend that have been sweeping parts of the US, such as Austin and the Bay Area, for the last several years. The beloved "roach coach" of old, dispensing questionable hotdogs and coffee to workers on industrial sites at lunchtime, has been replaced by inspired, creative, and gourmet choices. Some foodies argue that today's food truck scene represents a street food revolution and some of our country's most creative culinary options. Downtown Disney is planning a celebration with Disney-inspired food trucks and other local food truck vendors this Saturday, June 21st.
From ultra-decadent doughnuts to Korean-inspired tacos, food truck creations often speak of indulgence, creativity, and fusion. But Disney's food trucks go a step further, bringing the bigger Disney story into the development of each truck's theme. Introduced in late 2013, each "mouse meals on wheels" truck has a name, unique thematic positioning, design, and menu to evoke everything from 1930s Hollywood to offering a peek at food favorites from around the world. As with everything, Disney does food trucks right.
Downtown Disney is already home to permanent four food trucks:
Enchanted Fare serves favorite dishes from Disney Parks around the world like Croque Monsieur from Magic Kingdom Park, Glass Noodle Salad from Hong Kong Disneyland and Hand-Dipped Corn Dogs from Disneyland park. This bright-red truck was created to evoke a nostalgic, down-home feeling.
The World Showcase of Flavors features star attractions from the Epcot International Food & Wine Festival. This large green truck is covered in vintage travel stickers.
Superstar Catering's "Favorite of the Stars of Disney's Hollywood Studios," focuses on meatball options fit for a celebrity. The truck's design is based on a 1930s art deco diner.
Namaste Café features a wide mix of Asian-inspired dishes. The truck is themed with art inspired by the colors and textures of Asia in Disney's Animal Kingdom.
Disney's ESPN Wide World of Sports is also home to a fleet of food trucks.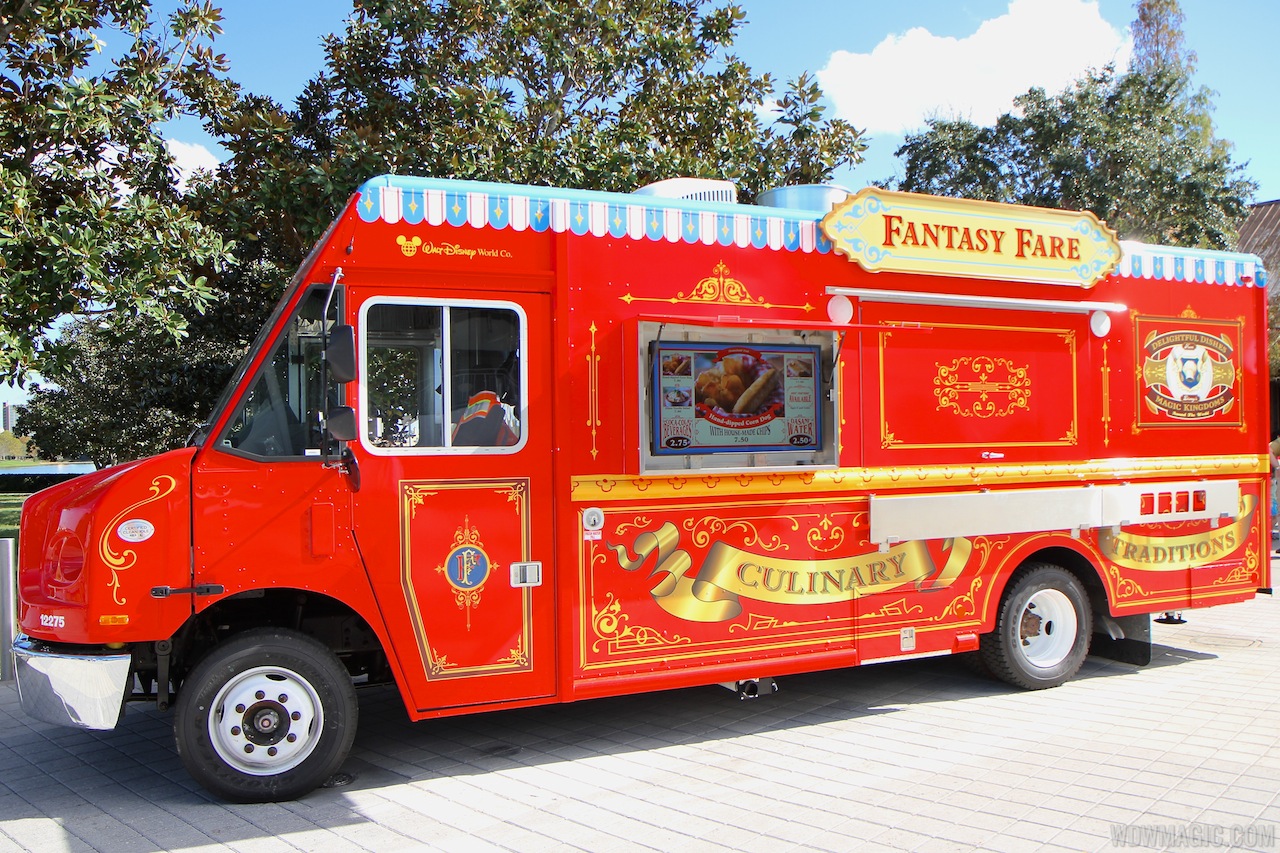 Disney's foray into food trucks has been well-received. It was recently announced on the Disney Parks Blog that Downtown Disney is planning to expand their offerings to a permanent food truck park slated to open sometime this summer. The food trucks have provided an interesting opportunity at Disney; they're often parked in the same spot, but reports have suggested that they're moved around during particularly busy times to help manage the flow of guests and demand for food.
The addition of new themed food trucks at Disney raises some major questions. Which themes will the new trucks focus on? What storylines, geographies, and bits of Disney lore will the menus and truck designs reflect? Is the mobile food solution a smart logistics choice within the park structure to lend a touch of culinary creativity, while also enabling them to set up strategic food spots during busy times? Will other parks follow suit and add more food trucks to their dining lineups?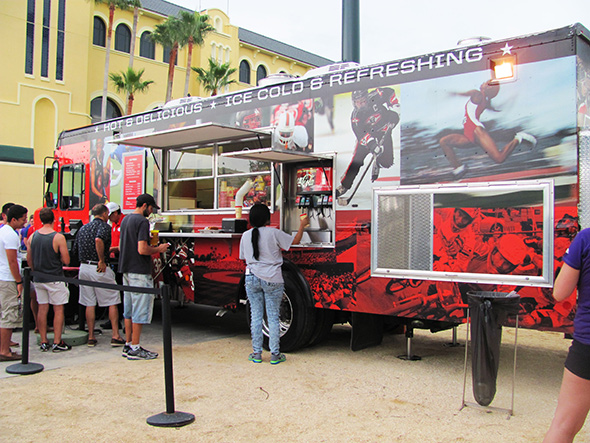 We're excited that this food trend is getting traction at Disney, and that there's a unique and fully themed spin being brought to life in each truck. While details of the food truck park are still scarce, one thing is for sure. Food truck lovers should visit Disney this Saturday for "Trucks on the Town" next to Cirque du Soleil and the House of Blues. The fourteen trucks serving everything from gator bites to dessert will serve as a great preview of the mobile food options soon to come.
Image credits: WDWMagic, Disney World Sites, Damouse