The Wheels on the Pub Go Round and Round – Fresh Design Puts a Restaurant on the Road
Posted by Rachel S on Wednesday, November 6th, 2013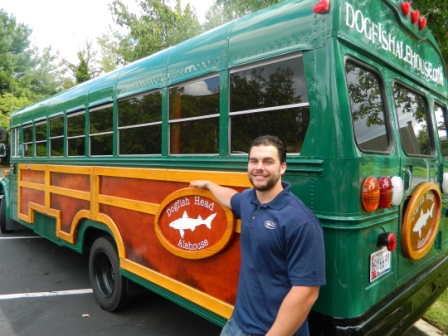 Dogfish Head Alehouse is a brewery with a playful design sensibility which reflects the comfy ambiance of their pubs and the fun of their namesake Delaware brewery. The new rolling pub was designed by recent college grad Sam Petrella. A student at University of Maryland Eastern Shore, Petrella and pals developed the concept for the pub on wheels for their senior project.
After researching Dogfish Head Alehouse, Petrella and crew developed the concept which would meet the food truck aspirations the restaurant had yet to realize while keeping true to their core business model. They came up with a business plan, practical budgets, researched the legalities of serving food and alcoholic beverages on the go and developed design concepts and menus.
One of Dogfish's founders, Joe Hospital listened to Petrella's presentation along with university representatives that were evaluating the project. They got an "A" on the project and within a few months, Petrella got a call from Dogfish giving him the green light to carry out the design of the rolling restaurant and get the AleBus on the road. Hospital said, "Sam took an idea that didn't have any model — there's no precedent for what he was doing – and built the bus out of our and his imagination."
The alehouse was constructed and made road-worthy within just a few months. The bus reflects elements of the alehouses and is a carryover of their design philosophy. With a lush green exterior and birch and oak paneling, it has pub appeal but is also reminiscent of a woodie wagon. Several of the company's iconic fishy logos affixed on each side of the AleBus and the interior includes tables from the stationary alehouses to ensure the mobile iteration echoes the other locales.
As interesting and innovative as the AleBus is, this is not the first design innovation Dogfish Head Ale has under the belt. The Sussex brewery of the same name was featured in American Architects for its recent facelift which threw off the symmetry of the existing structure, added green space, bocce courts exterior cladding and an ultra-cool Steampunk inspired tree house which houses a conference room.
The bus is available for private rentals and runs about $75 a pop for pub food and ale while tooling around the streets of Maryland and Virginia. Renters can enjoy eats and a ride from their front door to a Washington Nationals game or to a tour of other Dogfish Alehouses. Service to your door is part of the project's design to ensure safety.
Image sources: American-architects.com, ShadyGrove.umd.edu, DogfishAlehouse.com