How Obamacare Could Devastate Theme Park Employees – Starting with SeaWorld
Posted by Rachel S on Tuesday, September 17th, 2013
It's happening people. As the Affordable Care Act (aka Obamacare) inches toward full implementation, the pinch is starting to hit employees across the country – including those at theme parks. Although many "experts" have pooh-poohed concerns that the new law will cause cuts in hours, it seems a fait accompli. SeaWorld confirmed to the Orlando Sentinel that it will be slashing part time workers' hours down from 32 per week to 28.
This puts them just below the Obamacare threshold which requires companies with 50 or more workers to provide insurance or pay a fine for all workers putting in 30 hours per week. SeaWorld's announcement will impact not only the aquatic franchise's theme parks but Busch Gardens parks since the chain owns these parks as well.
The question is will other parks follow suit and cut hours? While SeaWorld didn't spell out that the change was owing to the ACA, it seems too convenient that they would change their hours from just above the threshold that requires compliance to just below it. This allows the parks to avoid participating in the legislation while retaining the part-time workers they need.
To make up for the cuts, perhaps more part-time jobs will be created, but that doesn't help those workers who will see a loss in hours and wages of nearly 13%. Despite the more than 260 employers that have reduced hours and overtly blamed Obamacare, the White House claims this is not a trend. But is this accurate?
Originally, employers were required to be in compliance by January 1, 2014 but complaints about ACA's burdensome reporting requirements won corporations a respite so they don't have to comply until the start of 2015. Is this respite the only reason that more companies aren't cutting workers?
The SeaWorld announcement comes just months after Universal Orlando revealed it would end its current health insurance program for part-time staffers as of December 31, 2013 because the limited benefit program doesn't meet Obamacare requirements. Although the plan didn't offer a huge range of benefits, it was extremely affordable and was better than no coverage. But ACA killed it, meaning thousands more part-time theme park workers will be without a health plan.
With theme park jobs being notoriously low paid, this adds insult to injury. An MSNBC report from a couple of years ago ranked amusement park attendants as the fifth worst paying job in America behind food service workers, dishwashers, cashiers and hosts and hostesses. Ironically, all of the five worst paying jobs are roles found at theme parks across the country so the industry has a corner on the bad job market.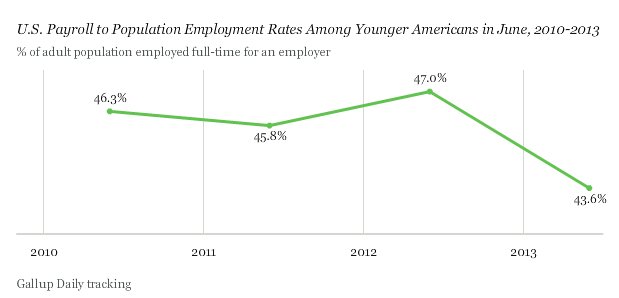 But for many theme park workers, there may not be much of a choice other than to suck it up and accept the cuts in hours and benefits because there just aren't a lot of options. Theme park workers are largely younger workers and with unemployment at a three year high for workers under age 24, it's doubtful that those lucky enough to have a job would walk away from it.
One has to wonder whether there will be a backlash from guests who will eschew parks that take hits at their staffers. Some comments have indicated a certain level of outrage at SeaWorld but most seem focused on the ACA legislation itself and question whether it's still right for America.
Only time will tell if SeaWorld's move is a one-off or if other parks around the country will follow suit. For park goers, the theme park experience is all fun and games, but for those who work behind the scenes, it seems like there may be less magic than ever…
image sources: USAToday.com, TheMinorityReportBlog.com, Azizonomics.com, HuffingtonPost.com