Bouquets to Art Blooming at the de Young Featuring Natasha Lisitsa
Posted by Rachel S on Tuesday, March 11th, 2014
A 30 year tradition continues at the de Young next week when the Bouquets to Art fundraiser is installed for its annual six day run at the San Francisco museum. This year, the event will run from Monday, March 18th through Saturday, March 23rd. More than 125 top tier floral designers will interpret favorite works in the de Young's permanent collection. The opening night gala for the event organized by the San Francisco Auxiliary of the Fine Arts Museum will be held Monday evening at the museum.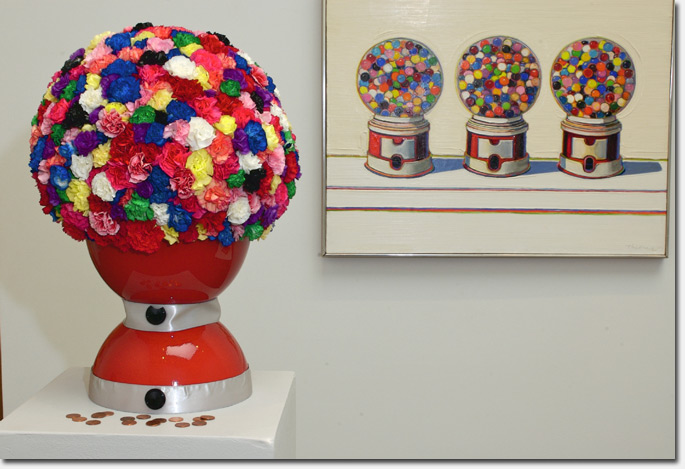 For the week long event, floral interpretations will bedeck the galleries and public spaces. Bouquets to Art will also include demonstrations and lectures by prominent floral designers and hands-on activities for children. But what may be the most exciting facet of the annual fundraising celebration is the prominent display in the Wilsey Court. This vast open space allows for an oversized floral display and this year's designer, Natasha Lisitsa of Waterlily Pond Floral Design Studio, will be preparing her third Wilsey feature for Bouquets to Art.
Lisitsa previously adorned the Wilsey Court in 2009 and 2011. Her 2009 creation, Elemental, was inspired by the architecture of the de Young itself. Her designs reflect her training in Ikebana – Japanese floral art – but her work at the museum raises this to massive new heights quite literally. Her suspended works are a high point of the event. 2009's Elemental was built on a core of 110 feet of copper tubing, was 20 feet tall, 15 feet wide and weighed more than 800 pounds.
In 2011 Lisitsa designed a work titled Fantastical that was just that. Colored bamboo fashioned into pyramids were festooned with giant faux blossoms constructed from Mexican fan palm tree boots. This design weighed in at 1,000 pounds and, with its 120 feet span, dominated the interior de Young courtyard. And this year, the iconic floral artist seems to have outdone even her own prior works.
In addition to putting final touches on the design, Lisitsa has been toying with the title of this year's installation – vacillating between Vortex and Tempest. As of this writing, Tempest seemed to be the more evocative and preferred title. The design is a giant funnel shaped base 15 feet tall and 20 feet across at its widest point. The base construction is made up of 2,000 apple branches obtained sustainably from an orchard during annual pruning. The primary colors will be red and fuschia featuring 1,000 roses and 300 anthuriums.
We talked to the artist about her creation for 2014's Bouquets to Art and here's what we discovered…
Entertainment Designer: What is your inspiration for Tempest?
Natasha: My inspiration for Tempest was more intuitive than intellectual – having created aerial installations for the Wilsey Court atrium twice before, I envisioned this piece as a complement to that amazing multi-layered space. The space is very angular, with interesting vantage points from above and below, and I wanted to engage visitors from these various angles. I am hoping that the monolithic feel of my design, its roundness and verticalilty will create a nice juxtaposition to the angles and horizontal lines of the architecture. Also with the neutral tones of the Wilsey Court and the hypnotic black and white of Gerhard Richter's Strontium mural as a backdrop, I wanted to shock the eye with an explosive celebratory pop of color.
Entertainment Designer: How is Tempest influenced by the de Young's artwork?
Natasha: It's created as a compliment and an interesting counterpoint to the de Young's architecture and Richter's Strontium mural with shape and color, so I played with that. I was also very excited by the Georgia O'Keeffe exhibition and certainly took inspiration from the rich color palette of her botanicals and her provocative take on the natural world.
We applaud Natasha's fantastical floral designs and hope you can get out to see her Wilsey Court presentation and support the de Young's fundraising efforts. To obtain tickets for the opening night gala of Bouquets to Art, click here. For tickets to the event or to lunches and demonstrations, click here. Note that some of the lectures are already sold out. Tickets are $22 for adults, seniors are $19, students with ID are $18 and youth 6-17 are just $12. Order online to save $1 per ticket.
image sources: deyoung.famsf.org,  richmondsfblog.com,  sfgardenshow.com,  inhabitat.com,  facebook.com