Museum Apps 3.0: The Next Generation of Museum Branded Content
Posted by Elizabeth Alton on Tuesday, June 2nd, 2015
What does the next generation of museum app-based technology look like? The museum industry has made massive investments in recent years, creating new technologies that help audiences engage with museum collections more deeply. One of the primary drivers has been capturing the imaginations of younger visitors to increase interest among Millennials and Gen Z. In order to be sustainable, museums need to engage this group. The attendance problem is real. According to the National Endowment for the Arts, art museum attendance dropped 5% between 2002 and 2012; what's more, the only segment growing in attendance are those ages 75 and older.
Yet technology isn't completely solving the problem. The challenge has emerged that standard apps are failing to really break through the wall with audiences and truly transform the visitor experience. It's a bit of a catch-22. Museums without this technology are seen as antiquated and behind the times; those that do invest in a "typical app" aren't seeing the return on investment (ROI) that they hoped for. Which leaves museums asking: what does the next generation of museum branded content look like, and what direction should it be heading?
Repackaged Audio Tours Lack Enhanced Interpretation
Today's typical museum apps fall into three categories:
1) The first is a logistical guide, showing galleries and allowing interested visitors to find specific parts of the museum or even a certain piece of artwork.
2) The second is building on that iconic form of museum interpretation, the audio tour. Rather than being available as an audio device, many apps are simply repackaged audio tours that are compatible with a range of mobile devices.
3) The third, and most inventive, category uses the camera functionality of mobile devices (or location-based technology) to present optional information on specific artifacts.
What are the issues? One of the most important is that guests are either not downloading the app or they're uninstalling it immediately after their visit. Studies have shown a range of factors at play, from privacy concerns to a simple lack of value-add. But one thing is for certain. The next frontier of museum technology will be – and already is, to a certain extent – taking shape in institutions around the globe.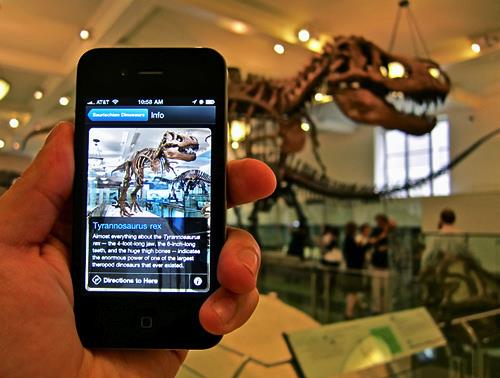 Moving from Enhanced Interpretation to Multiple Perspectives
One of the most valuable byproducts of museum apps may have been somewhat accidental. A more advanced feature that's becoming popular is using location-based technology, known as beacons, to sense where a museum visitor is. Based on their proximity to a specific painting or artifact, guests receive a notification on their smartphone with more information.
While the "second screen" effect is powerful, that may not be what's standing out to users. Getting additional history is interesting. But museums that are using the digital capabilities to share multiple interpretations on a piece are truly differentiating themselves. One of the big objections to the museum context is that each exhibit is often subject to a tops-down, single interpretation. Auxiliary digital materials can allow curators to expose guests to multiple critical interpretations of a piece of art, related literature, different versions of history, cultural storytelling, mythological connections and more. It's easier to be both inclusive and comprehensive as a result.
When Technology and Learning Intersect
Another application that's standing out for branded museum apps is where hands-on learning and technology intersect. Some apps are using mobile device's visual capabilities to help guests experience art more directly. Hyperzoom features are enabling guests to closely view a specific component of an artwork or artifact, and explore tiny details such as the brush strokes used on a painted masterpiece. Some are going so far as to let users "touch the art" on their touchscreens, and see technology through infrared and other lenses for unique insights.
Certain exhibits that we've explored, such as pens at the Cooper Hewitt Museum or Wonderkamers at the Hague, are taking digital technology to a whole new level. The goal is often digital curation. Which pieces of art speak to the visitors? How would they organize different exhibits? The idea of using technology in this way allows visitors to move beyond learning about each piece of art in a static form, and instead apply critical thinking and creativity to how they would develop their own themed experiences. This type of hands-on learning is only possible in the digital context.
Gamification and social sharing is also playing an increasing role in museum apps. The baseline functionality allows guests to create something and share it on social media. Gamification features allow curators to create certain treasure hunts or themed games within the museum itself. As these become more sophisticated, it seems likely the virtual and augmented reality features could expand the possibilities.
The bigger question is where all this is headed. What's clear is that simply reimagining an audio tour as an app or using a smart phone camera to connect a visitor to a Wikipedia entry about an artifact is not enough. Museums need to push technology to the point where they're at the intersection of experience, learning, and tech capabilities. When the digital platform is being used in such a way that it allows guests to completely go beyond everything that they've imagined was possible in the museum context – for example, creating new virtual exhibits – then we'll finally be on the right track for museum apps 3.0.
3 responses to "Museum Apps 3.0: The Next Generation of Museum Branded Content"