15 Epic Attractions, Theme Parks, and Museums to Watch This Year
Posted by Elizabeth Alton on Friday, February 13th, 2015
It may seem hard to imagine with much of the East Coast blanketed under feet of snow, but spring is just around the corner. The start of what we like to think of as theme park and new attraction season is not far behind! 2014 was a big year in entertainment design with the opening of Universal Studios' Diagon Alley, numerous classic attraction face lifts, and the debut of several record breaking roller coasters and other rides. 2015 promises to be no less exciting, with several park and museum openings, first-of-its-kind ride debuts, and much more. Here's a closer look at 15 of the epic attractions, theme parks, and museums we're keeping an eye on this year, in no specific order.
Disneyland 60th Anniversary: Diamond Celebration
Initially, we hoped to be announcing the opening of Disney Shanghai; but sources close to the project suggest that the reported December 2015 opening date may get pushed back to sometime in 2016. The actual opening date will be announced later this year. In the meantime, Disney fans still have plenty to celebrate. One of the biggest things on the Disney calendar in 2015 is the 60th anniversary celebration of Disneyland. The brand will be commemorating this big event with a Diamond Celebration at the Anaheim property, set to kick off on May 22nd. Planned moves include "Paint the Night," a new night-time parade; projection mapping technology additions to the fireworks show; and the addition of a diamond-themed exterior to Sleeping Beauty's castle.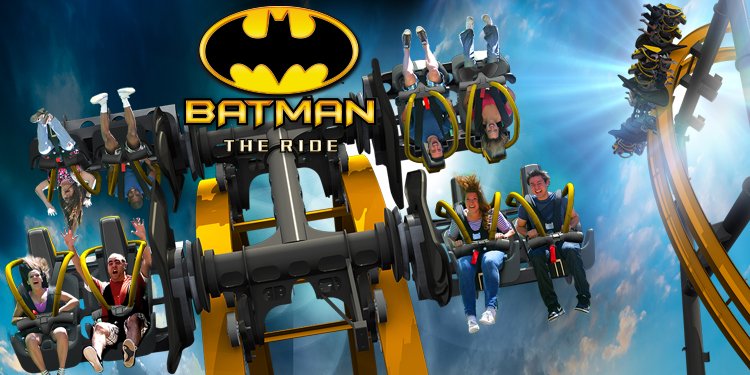 Batman 4th Dimension Coaster
Six Flags Fiesta Texas is debuting the Batman 4th Dimension Roller Coaster, a collaboration between S&S Worldwide and Rocky Mountain Construction. Batman is a "4D spin coaster" that will reach 40mph and feature 1000 feet of track. Seats spin forward and back, adding a 4th dimension experience, as the ride snakes along twisting and turning tracks, freefalls, vertical rises, and raven drops. Batman could signal a move to the wider integration of 4th dimension ride features, and early testers suggest that it's a smoother ride experience than earlier 4th Dimension Coasters have been.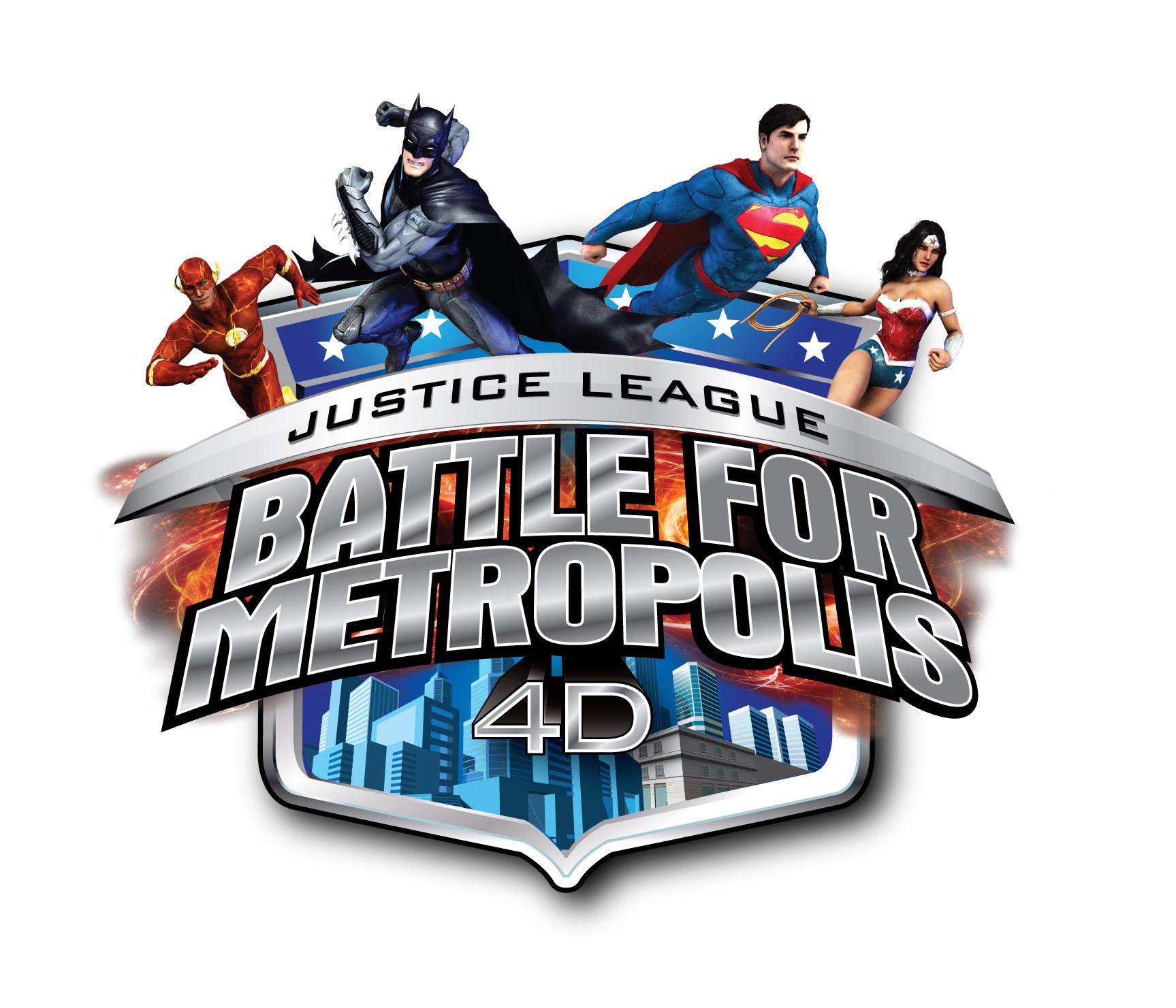 Six Flags Themed Dark Rides
Sister parks Six Flags Over Texas and Six Flags St. Louis will launch the  Justice League: Battle for Metropolis dark rides for the Six Flags brand. Designed by the Sally Corp., both rides will debut in the summer of 2015. Guests battle villains Lex Luthor and the Joker to rescue the Justice League and save Metropolis from widespread destruction. Investments in dark rides represent a strategic move to incorporate more storytelling and theming for a brand that's renowned for its thrill rides and roller coasters. We're excited to see how audiences embrace them and if it signals a directional shift for Six Flags in the years ahead.
The Fast & The Furious – Supercharged, Universal Studios
The Fast & The Furious – Supercharged is launching in the summer 2015 to celebrate the 50th anniversary of Universal Studios' famed Studio Tour. Guests on the ride are plunged into a world of fast cars and international crime cartels as part of this dark ride. During an exhilarating car chase that hits 120 mph, the world of the popular movie franchise is brought to life with special effects and high definition 3D imagery that's projected onto the world's largest 360-degree screens. The design expertly combines motion simulator platforms and a 400 foot long movie screen tunnel to what's reported to be stunning effect.
Voyage to the Iron Reef, Knott's Berry Farm
Knott's Berry Farm is currently constructing Voyage to the Iron Reef, an interactive 4D attraction with a Steampunk theme that will open later this year. The ride is designed by Triotech. Voyage puts riders into the middle of an undersea battle with Steampunk-inspired sea creatures planning to destroy the park. Guests battle the creatures to save the attractions, using freeze rays against a host of enemies before facing off against the boss monster, The Kraken Queen. The attraction combines 3-D graphics, interactive video games, and cutting-edge projection technology.
Countdown to Zero, American Museum of Natural History
Sometimes museum exhibits and cultural events connect in a way that makes them incredibly timely. With recent Ebola outbreaks and scares around the world and an escalation in the national dialogue about the anti-vaccine movement, Countdown to Zero which just opened at the American Museum of Natural History is appearing at just the right moment. The focus of the exhibit is the use of science and collaborative approaches to eradicating both modern and ancient deadly diseases. Guests can take a deep dive into specific case studies, see examples from around the world, and take a rare inside look at how diseases are fought. The exhibit uses narrative, technology, images, and artifacts to explore these critical issues.
The National Videogame Arcade
The National Videogame Arcade opens later this year in Nottingham, England and is the world's first culture center dedicated to exploring the cultural, social, economic, and educational benefits of gaming. It's anticipated to become a European "hub of gaming culture." With a collection of more than 12,000 objects, The National Videogame Arcade will feature interactive exhibits that explore gaming from both the gamemaking and game playing perspectives. Extensive educational opportunities and programs are fostering opportunities for gamemaking for audiences of all ages and levels. It hopes to become a blended entertainment attraction and an epicenter for video game talent.
Eternity Passage, Beijing
There are so many exciting parks opening or currently under development in China. One in particular, Eternity Passage, caught our attention. Slated to open later this year, Eternity Passage is described as a high-tech park that blends technology and fantasy across 15 uniquely themed zones that include both indoor and open air spaces. What stands out is the theming, which blends Chinese culture and history with a technological bent: "The latest entertainment destination will feature Chinese history, culture, and heritage alongside technological and conceptual breakthroughs within China's existing amusement park industry standards.The game themes cover China's past, present, and future. Each scenic spot is a "science fiction park," which transcends time and space and takes the park-goers through a fascinating journey through time." We're excited to see how this plays out as the park opens.
Grand Egyptian Museum, Cairo
$800 million dollars in design and development, 100,000 artifacts, and 7,000 years of history are converging at the Grand Egyptian Museum. Located between Cairo and the Pyramids of Giza, the Grand Egyptian Museum is set to be the world's largest archaeological institution. While the draw is the sheer scale of specialized access to Egyptian artifacts, the museum is bringing together technological innovation, careful theming, and curatorial direction to create an organization that will no doubt be a leading world-class museum.
Funtasy Island, Singapore
Set to open in late 2015, Funtasy Island is the world's largest eco-theme park which is currently being built in the Riau Islands of Indonesia, off the coast of Singapore. With eight themed zones, the park will offer interactive land and sea safaris, a multi-sensory rainforest experience, snorkeling and scuba, and animal encounters with everything from dolphins to whale sharks. It's also integrating a network of hotels, live shows, and more traditional theme park attractions.
Carowinds Giga Coaster
Carowinds Fury 325 is being promoted as the world's biggest and fastest giga coaster. The $30 million ride is slated to open this summer at the Carowinds park, on the border between North and South Carolina. The 6,600 ft. track will weave over and under the park entrance, reaching a height of 325 ft. and speeds of up to 90 mph. It hits (or just misses) the record books in several categories, so is likely to be a top favorite with Southern thrill seekers this year.
Universal Studios Hollywood – Simpson's Springfield
Universal Studios has experienced significant success with creating an immersive world based on the Simpson's animated series at Universal Orlando. Building on that success, the company plans to open a comparable area at Universal Studios Hollywood. What stands out about the Simpson's Springfield from a design perspective is the level of detail from rides to themed dining and retail. The creation of immersive worlds is one of Universals' strengths, and Springfield is one of the lighter examples that appeals to a wide range of guests.
Universal's Islands of Adventure Mystery Ride
Construction is underway for a new ride at Universal's Islands of Adventure in Florida. Officially it's known as Project 340. Industry pundits have speculated that the new dark ride will be a King Kong attraction that brings riders to Skull Island. Early examination of water permit requests and leaked blueprints suggests a massive indoor-outdoor ride with a motion simulator. Little is officially known, but fans are hopeful that more information will be available soon and that Project 340 might see daylight later this year.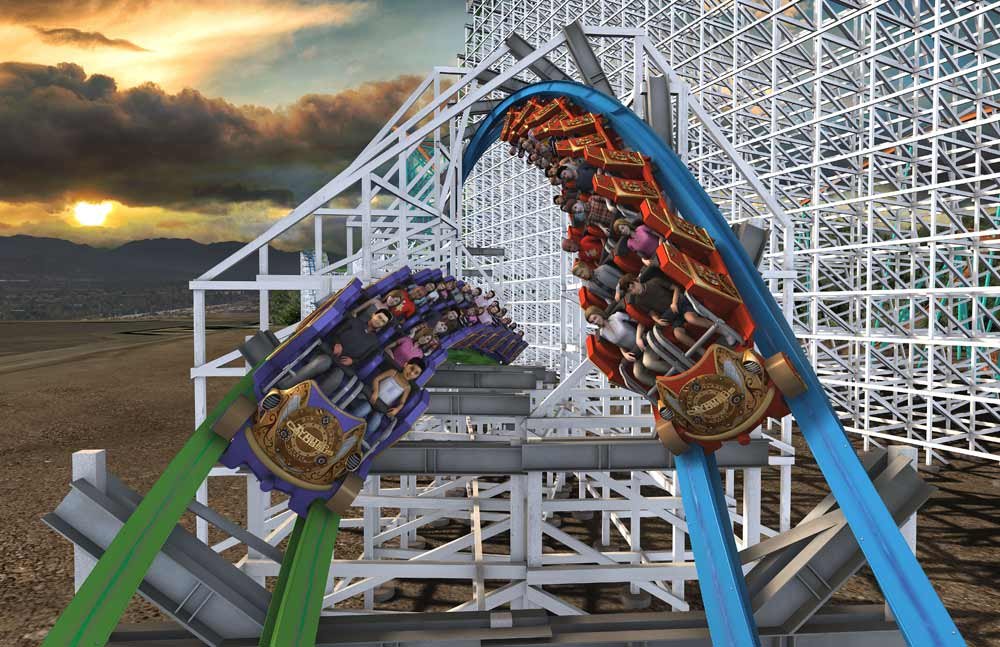 Twisted Colossus, Six Flags
Six Flags Magic Mountain is introducing a new wooden-steel hybrid coaster that's been designed and manufactured by Rocky Mountain Construction. Twisted Colossus is repurposing the existing Colossus coaster into the world's longest hybrid coaster, with a nearly 5000 ft. track. Meanwhile, guests will enjoy lift hills, 80-degree drops, airtime hills, and two zero-G roll inversions. We're excited about the trends this year in the wooden and hybrid coaster space, and this one promises to be a standout.
Karnan, Hansa Park, Germany
The Hansa Park in Germany is set to debut Karnan, which has been described as a blended coaster and dark ride. The hypercoaster is set to open in 2015, with theming elements added in 2016. A collaboration between Werner Stengel and Münsterhausen, the ride has been described as a 200 ft. tall high-speed coaster that will feature both a vertical lift and a vertical drop. The coaster portion of the ride is expected to be bookended by two dark ride portions, based on the theme "Oath of Karnan: Beware of Its Spell." The potential for the further integration of roller coasters with the full theming traditionally reserved for dark rides has tremendous potential.
It's impossible to capture everything that's coming out this year globally, across all the spaces that we cover. Stay tuned for individual coverage of some other exciting attractions and in-depth looks at the latest entertainment design developments in the year ahead. Do you have any favorites for 2015 that we missed? Let us know in the comments below so we can keep an eye on what's trending.
One response to "15 Epic Attractions, Theme Parks, and Museums to Watch This Year"