Surfs Up: A New Frontier for the Water Park Industry
Posted by Elizabeth Alton on Monday, January 20th, 2014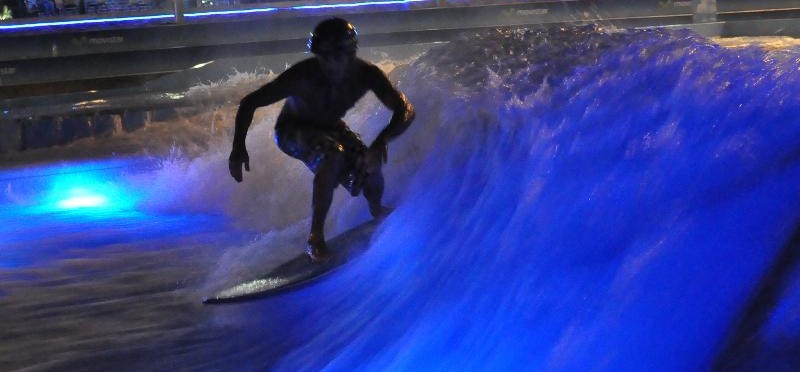 When you think of water parks, a few images probably come to mind. You may think of lazily winding through a relaxing lagoon, taking a free fall down a heart-pounding water slide, or spending the day bobbing up and down in the wave pool. It's likely that surfing isn't at the top of the list. But with the recent announcement of a new surf park opening in the United States, this may change in the near future.

American Wave Machines, a company dedicated to creating simulated real surf experiences with artificial waves, has partnered with SkyVenture New Hampshire to launch the first indoor surf park in the United States. The park, aptly named Surfs Up, is scheduled to open its doors this year in Nashua, New Hampshire. Surfs Up will allow guests to catch a wave like they've never done before. The new park gives beginners who are interested in getting started with the sport the chance to surf in a controlled, comfortable environment. It also provides a venue for more experienced surfers to enjoy their favorite sport more frequently during the cold New England winter months.

There's no arguing that artificial surfing is not the same as the experience of paddling out into the ocean to ride the perfect wave into shore. Simulated waves simply don't provide the unique connection to nature that's such a draw for many who are involved with the sport. It also true that those surfing in the ocean have less control over the experience than athletes surfing in water or sports parks. But the artificial surf concept certainly has some important implications for both the water park industry and the sport of surfing.

In the coming years, we expect to see more simulated surf experiences start popping up in water and sports parks around the world. These experiences represent a huge window of opportunity for parks that are hoping to connect with a wider audience by offering more surfing-related activities. According to one recent article, an estimated 23 million people worldwide surf regularly, and that number continues to rise. As mainstream appeal for the sport grows, those interested in surfing will continue to seek out new opportunities to test the waters before diving head first into the sport.

There's also the potential for simulated surf experiences to impact the sport. If artificial surf does begin to take hold in water and theme parks, we expect that the total number of surfers worldwide will skyrocket. Simulated surf provides an effective gateway into the world of surfing for novices, as well as a unique opportunity for those who have more experience with the sport to enjoy surfing in a different way. One thing is for sure: the potential is there. We will continue to watch the development of artificial surf experiences and their effect on both the water park industry and the sport in the year ahead.
Image sources: surfparkcentral.com, americanwavemachines.com, timeoutsingapore.com