Coming Soon to a Water Park Near You
Posted by Elizabeth Alton on Saturday, February 14th, 2015
We've been exploring trends recently in what 2015 holds for theme parks, wooden roller coasters, and more. Now it's time to turn our attention to water parks. The last couple of years have been an exciting time in the water park space. New developments have ranged from the launch of Verrückt, a 17-story water slide at Schlitterbahn Kansas City to the opening of Yas Waterworld, the first fully themed water park in the world. There has also been a focus on differentiated water park experiences, such as indoor surf parks. Here's a closer look at some highlights you can expect to see in the year ahead.
2015 will feature new water park openings, as well as new water slide and attraction debuts at familiar brand resorts. Much of the development that we're seeing is in designing more complex water slides that play with elements such as dark and light tunnels, unique raft or slider configurations, and incorporating more complex experiential elements (e.g. drops, hang time, etc.). A few innovators are finding ways to integrate technology and theming into the water park experience, a trend that we hope and expect to see continue and increase in the years ahead.
Kalahari Pocono Mountains is a new resort opening in June 2015. Ultimately, the park is slated to be Pennsylvania's largest indoor water park with more than 100,000 square feet of attractions. It is family friendly, with an additional outdoor water park area and a large entertainment center with arcades, bowling, laser tag, and more. Indoor water parks are gaining in popularity in climates where outside parks have limited operating windows from late spring to early fall. They tend to be popular destinations and allow the parks to maximize year-round revenue.
One of the most exciting additions that we're seeing is the opening of White Water West's innovative Slideboarding attraction at Las Vegas Wet n' Wild. The ride blends video game-inspired interactivity with a water slide. As guests ride along a 300 foot slide equipped with video screens, they play with controllers on the rafts to match the colors on the slide and score points. We're excited to see this integration of gaming technology in water parks, and can imagine the addictive potential that adds dramatically to both ride repeatability and return park visits.
Nashville Shores is continuing their trend of ongoing renovations and upgrades. This season, most notably they're adding a Proslide mega-tube raft attraction called the Big Kahuna. The Big Kahuna features a twisting dark tunnel, drops, and hang time on banked walls before a final giant splashdown. Meanwhile, Raging Waters San Dimas is adding the Aqua Rocket to its lineup. The first water coaster slide in California uses a hydro-magnetic slide with magnetic launch technology to create uphill and downhill experiences on the 1000 foot ride track.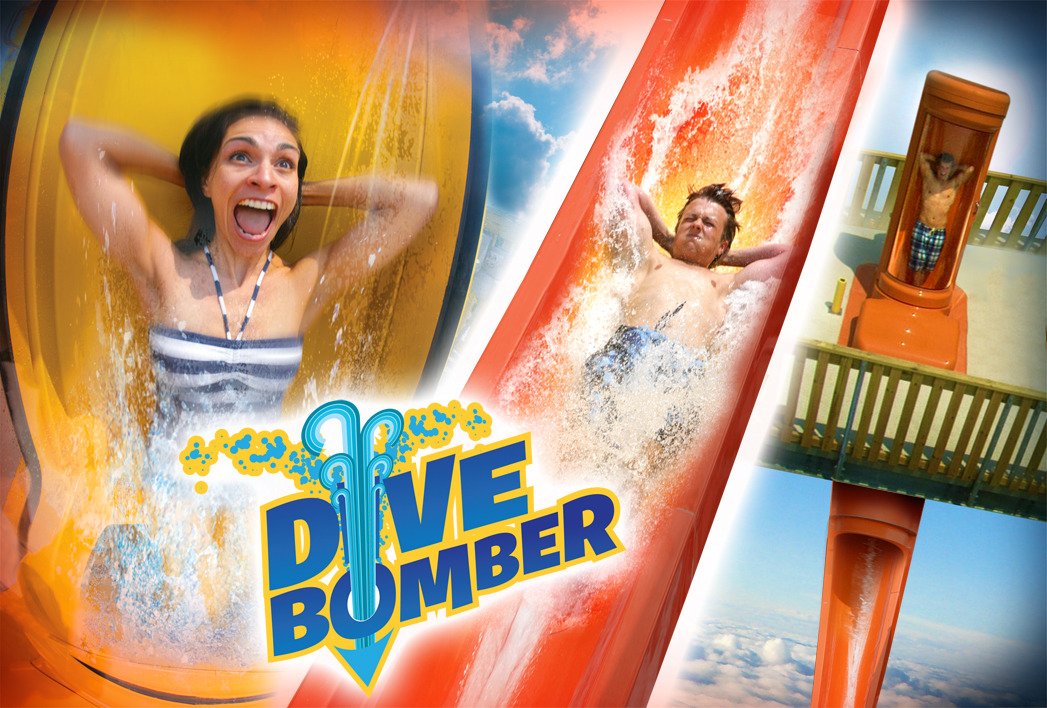 A number of other attractions are on the way. Wet 'n Wild Emerald Point is debuting a super speed racer, The Riptide Racer. At Six Flags White Water Park Atlanta, the Dive Bomber is a capsule ride that leaves guests feeling as though the floor drops out from under them and leads to a ten story drop. Tampa's Adventure Island is introducing the Colossal Curl, a raft ride with a variety of elements including negative G-force.
For park goers that love new thrills, this season's water park innovations promise new resort openings (we couldn't cover them all!), big rides with heart pounding twists and turns, and year round indoor park options. From a design perspective, we're looking forward to future innovations that incorporate more record breaking rides, technological integration, and storytelling/theming elements.
Images sourced via Schlitterbahn, White Water West, Six Flags, Kalahari