Verrückt – World's Tallest Water Slide Pushes Wet Ride Design to Insane Limits
Posted by Rachel S on Tuesday, January 28th, 2014
Have you ever looked at a ride and felt your heart thump against your chest in sheer terror and then decided to go ahead and get on it anyway? That's the kind of fear and intrigue that will be inspired when the world's tallest water slide opens in Kansas City this summer. The Verrückt Meg-a-Blaster is a design triumph of insane proportions from the mind of Jeff Henry, co-owner of Schlitterbahn Waterpark and evil creative genius. Henry decided he wanted to build a record breaking slide and Verrückt is the result.
If you spreche Deutsch, you know that verrückt means insane and you'll have ample time to question your own sanity as you trek up 17 stories – 264 steps to the pinnacle of this awesome spectacle. I have to wonder if there's an alternate exit route for those that chicken out. Likely not and the coward's way will result in a protracted walk of shame that may be a record breaker in itself…
And if the height wasn't enough to send you running for a clean swimsuit, the speed might – at 65 mph this monstrous water slide is faster than most roller coasters! Verrückt requires four riders per slide and as Henry says, "It's more fun if someone is screaming in your ear." The ride starts with a terrifying 17 story drop and then takes you over two smaller hills. That's more than 600 feet of wet thrills. After the initial massive drop that's steeper than a black diamond slope, the second hill is five stories and required new uphill water coaster technology.
Verrückt will open in Kansas City's Schlitterbahn on Memorial Day and when it does, it will topple the world's tallest water slide record currently held by Rio de Janeiro's Kilimanjaro at Aguas Country Club since 2002. The design style and components are fascinating and the build will be featured on The Travel Channel's Xtreme Waterparks series. The show has followed the coaster through its design and build process and will be there when the first four riders plummet. You can check out the build process of Verrückt Meg-a-Blaster here.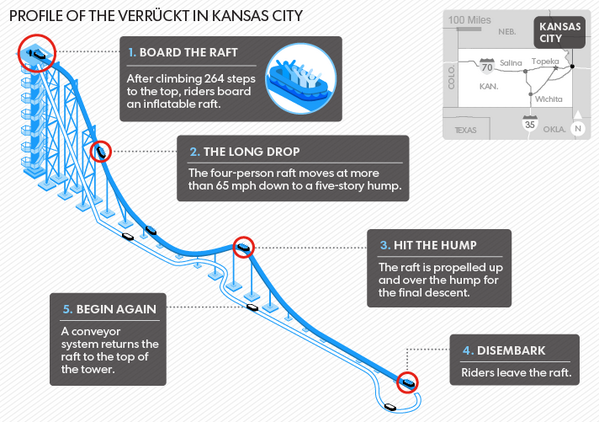 The massive tower you'll circle as you climb to a dizzying height is constructed of railroad tanker cars cut and then welded together. It's kind of awesome that they're re-purposing rather than re-inventing the wheel in the design and build of Verrückt. And Schlitterbahn's record-breaker differs from Kilimanjaro in that it will be a raft ride rather than a body slide – although a raft is cold comfort when you're plunging 170 feet straight down…
Verrückt is taller than Niagara Falls, the Statue of Liberty from sandals to torch and the Tower of London. Not only will it be the world's tallest slide, but also the world's fastest and steepest. Henry says that Verrückt "is going to be a game changer for our industry. Our greatest challenge will be to find thrill seekers brave enough to ride." If you're brave enough, get to Kansas City after Memorial Day and take the plunge!
image sources: Vimeo.com, BeaumontEnterprise.com, PBS.twimg.com, SchlitterBlog.com