Designing the Interactive Aquarium
Posted by Elizabeth Alton on Monday, May 5th, 2014
When you envision an aquarium, if you're anything like us, you think of large tanks where schools of fish and interesting aquatic specimens float by as you passively watch and observe. If you're at a really cool aquarium, there might be a penguin exhibit or something mind blowing like the beluga whales swimming and playing at Chicago's Shedd Aquarium. It's enjoyable to go and see the animals. But most aquariums are not interactive. After all, how much can you interact with a fish?
Quite a bit, it turns out. A new generation of aquariums is setting out to challenge our expectations of aquariums as one-dimensional experiences. One approach is to provide hands-on interaction with the sea life themselves. Cancun's Interactive Aquarium enables guests to swim with dolphins, pet manta rays, and even feed sharks from within the safety of a cage. Getting up close and personal is one way to experience the ocean's largest and most impressive inhabitants.
 For exhibits like these, there are significant concerns about human safety, animal care and stress levels, and constantly managing the interactions that come into play. Even the smallest aquariums feature a "petting" area where young guests can touch various sea creatures, such as starfish. Another popular design technique is creating a glass tunnel that guests can walk through, that allow them to experience the aquarium from "under the sea." This view is particularly startling when sharks, rays, or huge schools of colorful fish are swirling above and around you.
These interactions, while exciting, aren't pushing the boundaries of visitor experience or learning design. As a result, institutions are beginning to explore how the best design practices for interactivity and engagement can be brought into the aquarium environment. It's actually been the core line of inquiry in a number of different academic studies. Making an Aquarium Environment Interactive: A Design Research Analysis of Exhibit Design Processes was a dissertation published in 2010 that tackled these very questions. The study looked at the impact of technology and different aquarium designs on user experience.
Another project, The Accessible Aquarium Project, housed at Georgia Tech Sonification Lab set out to test how sonification could increase interactivity for visually impaired guests. Their approach was to help aquariums and other venues be more engaging and accessible for visitors with vision impairments by providing real-time interpretations of the exhibits using innovative tracking, music, narrations, and adaptive sonification. There's significant promise here for all kinds of exhibit design, for a wide range of populations.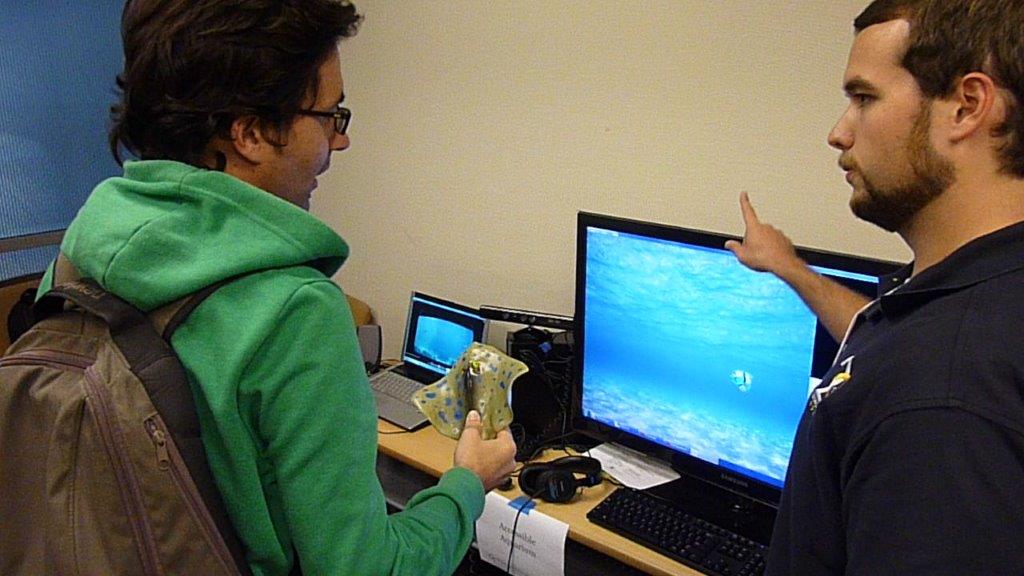 Another approach is to employ gamification and technology. Many aquariums are exploring interactive signage and theming. Many are beginning to design and deploy fully themed experiences. The Monterrey Bay Aquarium's Mission to the Deep is a great example of this theory in practice. The exhibit uses real footage of deep sea animals, combined with a fully themed underwater exploration room. Participants get the hands-on experience of using underwater robots and other high-tech tools.  There are different missions that can selected, from discovering an alien deep sea fish species to exploring underwater mountains to viewing a giant whale skeleton at the bottom of the ocean. These missions mirror work done in the MBARI, the aquarium research institute. It's a creative way to introduce oceanographic underwater exploration and how its conducted.
Aquariums provide an important role for visitors: for many people around the world, it's their first and best introduction to the wonders of what's beneath the ocean's surface. We're excited by the nascent innovation that we see. But there's so much more room for potential, from creative designs to introducing innovative exhibits. There's an exciting decade ahead for aquariums, and we're staying on the lookout for truly innovative experiences and design. Do you have a tip for us on a great project? Let us know in the comments below!
Image credits: Monterrey Bay Aquarium, The Accessible Aquarium Project, Wikimedia