Innovative Low Profile Design in World Class Fish Facility at Acuario Inbursa
Posted by Rachel S on Monday, June 16th, 2014
Mexico City has welcomed a stunning new aquarium with the opening of Acuario Inbursa financed by Mexican mogul Carlos Slim. This new facility in the Nuevo Polanco district brings welcome opportunities to the region, offers a modest gate fee and, most interesting, an innovate low-profile design quite unlike any other aquarium we've seen.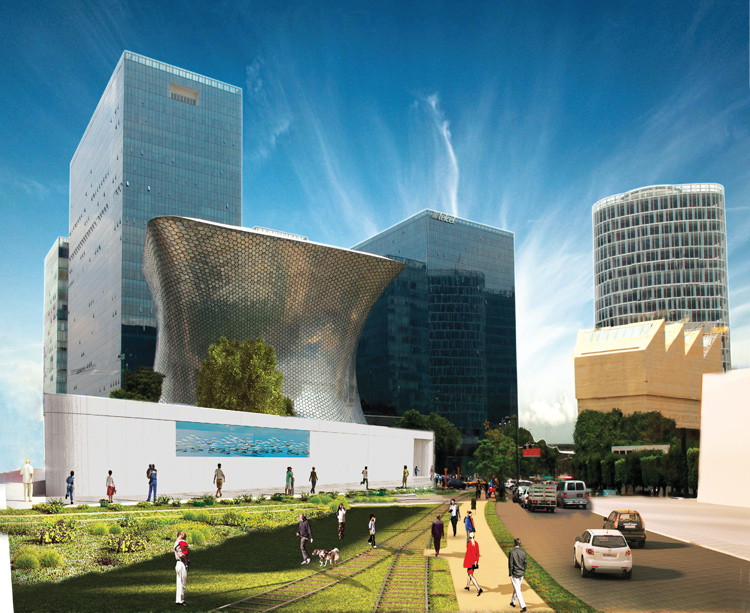 At a glance, Acuario Inbursa looks like a triangular one-story putting green plopped down on a city block. In fact, it's a several stories large fish facility, but was designed to be mostly subterranean. The low-to-the-ground architecture is particularly interesting when you step back and take a look at the adjacent Museo Soumaya, a glittery modern museum that looms like a mothership from another world.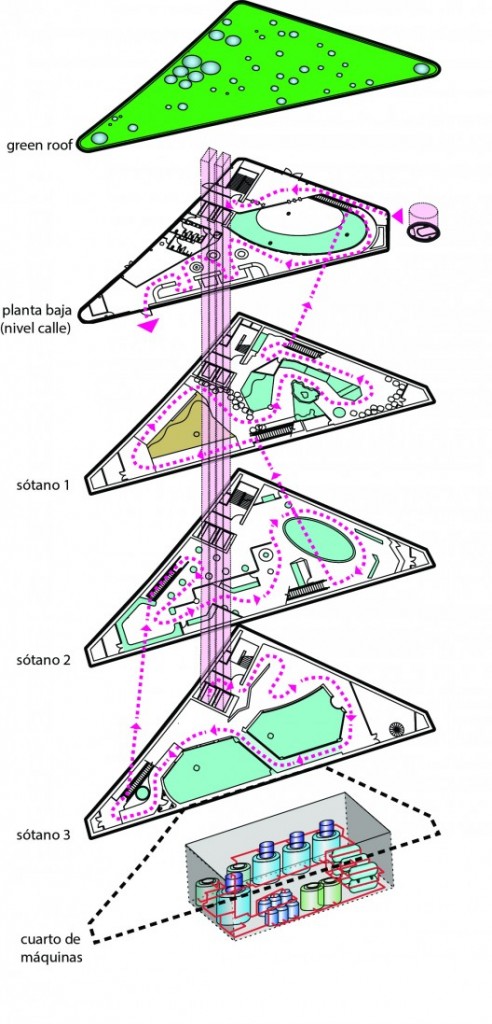 There are four subterranean levels, 48 separate exhibits and 5,000 creatures encompassing 230 different species in the near 40,000 square foot facility. The aquarium was designed by Slim's award-winning architect son-in-law Fernando Romero and his firm FR-EE who also designed the aforementioned Soumaya Museum. Romero has designed facilities in the US, Asia and Mexico with an eye on cultural regeneration and sustainable design.
Design elements include loads of walk-through water tunnels that allow you to get up close and personal with specimens as they swim around and over you. Touch tanks for rays and other exotics are fun for kids and adults alike. The immersive design is such that you should forget you're underground and believe, instead, that you're underwater. As you go deeper into the acuario, you experience a descent into the depths of the oceans and the species on display change accordingly.
Animals on exhibit include species of jellyfish, sharks, manta rays, puffer fish, clown fish, eel, barracuda, crabs and other crustaceans, seahorses, piranha and more. The acuario also features a few reptiles including turtles, snakes and crocodiles. In addition to the touch tanks for mantas, there are touch and feed tanks for starfish and stripes. Check out the video below for an overview of the new facility (skip to 4:30 to bypass the speeches and get straight to the swimmers).
The concept behind the $20 million facility is edutainment – offering a world-class leisure spot for locals and tourists while raising the profile of conservation issues local to Mexico and globally. The project hopes to inspire a passion for marine life and will also play home to a conservation center and will coordinate with other area oceanographic and preservation groups.
Fun aquarium design fact – ever notice how jellyfish tanks are always rounded with no corners? That's because they tend to get stuck in corners. The admission price is 129 pesos which equates to about $10 US. This is a great price point because it makes it affordable for locals as well as tourists. Hours at Acuario Inbursa are Monday through Friday 10 am to 6 pm and 10 am to 7 pm on weekends. The facility is fully accessible and wheelchair friendly on all levels.
image sources: FR-EE.org,  Plazacarsooficinas.com,  2luxury2.com, Eluniversal.com.mx,  Warp.la,  Mexico.cnn.com