Philadelphia Zoo Puts Tigers on the Catwalk for a Unique Up-Close Visitor Experience
Posted by Rachel S on Thursday, May 15th, 2014

Being stalked by a big cat isn't something you generally go looking for, but at the Philadelphia Zoo, guests pay for the privilege. The Phillie Zoo's new Big Cat Crossing allows its giant Amur tigers, snow leopards, pumas, lions and jaguars to stroll across a 330 foot long mesh enclosed bridge that takes them atop visitor walkways, increasing guest exposure to the cats and infusing new stimulation for the animals into their habitat. The cat bridge is four feet tall and ranges from a little more than three feet wide to five feet wide.
This newest addition to the zoo opened May 10th and is an expansion of the Philadelphia Zoo's Z00360 project which is a "first-in-the-world animal travel and exploration trail system that provides animals with more room to roam." The Big Cat Crossing is phase three of the project – the Treetop Trail for monkeys and lemurs and Great Ape Trail for orangutans were phases one and two. These are part of a design trend called animal rotation that can improve captivity conditions for animals and amp up visitor experience.
The Big Cat Crossing allows the majestic felines to walk, nap and stretch just 14 feet above guests' heads, allowing each to have a good view of the other. Jon Coe first introduced animal rotation in zoo exhibit design back in 1995 to allow greater movement of animals between interconnected display areas and off-display areas and encourage appropriate animal behavior and activity. He theorized this would improve quality of life for the creatures while offering a more satisfying visitor experience.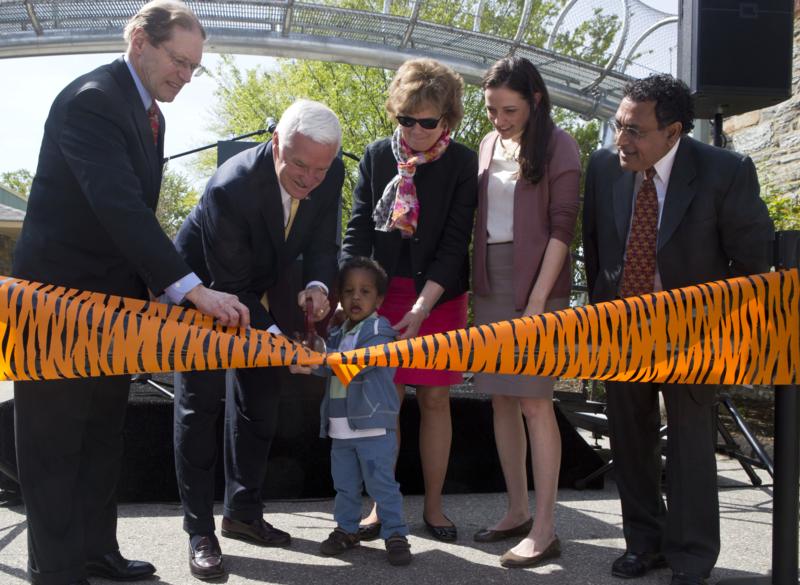 The basis for the animal rotation concept is the work of Hediger and intends to mimic animal habitats in the wild with retreat space such as dens, areas for basking, marking and foraging connected by pathways. The theory is that different species could time share the same areas as they do in nature to mimic authentic habitats and keep animals stimulated as they are in the wild. In zoos, as you've likely seen, many animals spend a lot of time lying around and this is due to boredom and routine.
But if their habitats are laden with scents and scat from other species in the timeshare exhibit space, they are more active and interested in exploring the space. This design concept also stimulates staff and deepens their expertise when they must care for animals across habitats. Disney's Animal Kingdom and the Louisville Zoo also use animal rotation in their exhibits.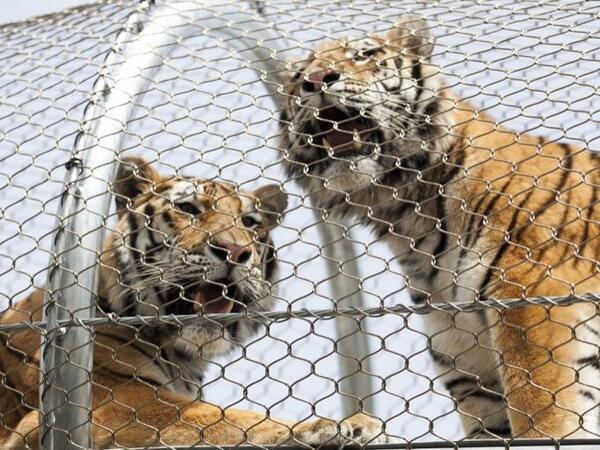 The Philadelphia Zoo is the nation's first and oldest zoo and is working hard to continually evolve exhibits. Vikram H. Dewan, president and CEO of the zoo says, "We are delighted to continue the transformation of Philadelphia Zoo… making Philadelphia Zoo the zoo of the future." What's really exciting is that the zoo plans to next interconnect the walkway trails so that when it's too cold for the orangutans to use their walkways, the cats can stretch their paws even further.
You can visit year-round to check out the new Big Cat Crossing at Philadelphia Zoo. March through October tickets are $20 and $18 for adults and kids and $16 per head in the winter season. Parking is $15 but free with zoo membership. Discounts are available to military and through the CityPass program.
image sources: DGrubs.com, PhiladelphiaZoo.org, NJ.com, PACast.com, AvaxNews.net, Veozz.com, NBCNews.com