Ripley's Debuts Canada's Largest Aquarium in Toronto!
Posted by Rachel S on Thursday, October 17th, 2013
Yesterday, Canada's largest aquarium opened to the public in Toronto – Ripley's Aquarium of Canada. Prior to the launch, the Vancouver Aquarium was the country's biggest aqua depot at 100,000 square feet of floor space and 6,000 featured species. Ripley's attraction is fully one-third larger at 135,000 square feet and a whopping 13,500 different species of swimmers. Here's a look at the nine major areas at the latest Ripley's installation:
#1 Canadian Waters
In all its iterations, Ripley's aquarium franchises feature the local aquatic wildlife and the Toronto facility does the same. This area dives into the Great Lakes and oceans surrounding our northern neighbor and takes a look at 17 different habitats from around the country. Two of the exhibits include the Pacific Northwest Kelp Forest and Great Lakes.
#2 Rainbow Reef
The warm waters of the Indian Pacific region are the focus of this reef-based exhibit that features more than 100 species of fish and an interactive dive shows that allow divers to communicate with guests in real time. This is a consistent exhibit across all three of Ripley's aquarium franchises and is done as well in Canada as it is in South Carolina and Tennessee.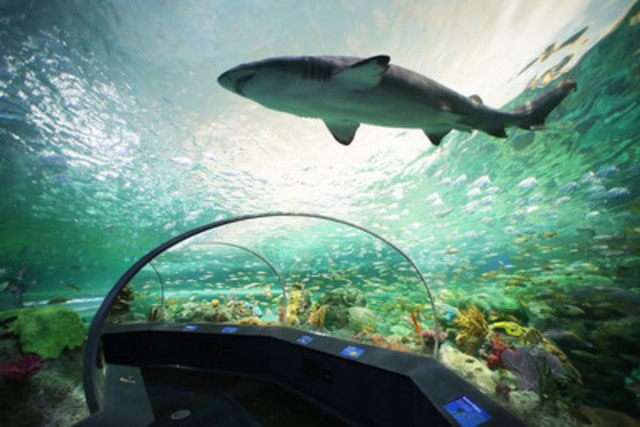 #3 Dangerous Lagoon   
Another standard feature of the Ripley's aquariums is a walk-through tunnel – or for those that prefer to glide, you can stand on the longest moving sidewalk in a North American aquarium and cruise as you enjoy the view. This 2.5 million liter tank is the aquarium's largest exhibit and features sharks, stingrays, barracuda, eels and oversized sea turtles.
#4 Discovery Centre
This is a fun exhibit for those with no claustrophobic qualms – climb under tanks and emerge amid the fish in pop-up "bubbles" that put you right in the middle of the action. Watch your head and know that if you're on the tall side you may not fit – but kids of all sizes should be fine.
Also check out the cool faux submarine you can climb into for a glimpse of how it would be to explore and study the ocean and its many denizens à la Jacques Cousteau.
#5 Touch Tanks
There's no need to keep your hands to yourself in this exhibit – feel free to touch everything that swims by! You can pet sharks, rays and other swimmers without fear of being nibbled by these non-aggressive species. If you've ever tried one of these exhibits but found your fingers were soon chilled and numb, what's nice about this iteration is that the water is a toasty 78 degrees. Lots of hands-on fun with no frigid digits!
#6 The Gallery
This exhibit has three different tanks – both salt and fresh water – and features odd and interesting specimens that have evolved intricate adaptations for survival. From sea dragons that blend into the underwater grasses to the amazing archerfish that spits water at insects and small animals on shore to knock them into the water for mealtime. This exhibit looks particularly interesting for those that appreciate the vagaries of nature.
#7 Ray Bay
Three different species of rays glide through this large exhibit – spotted eagle rays, cownose rays and southern stingrays. Guests can view from the glassed-in sides or the open top of the exhibit. Feeding time promises to be an event as well as divers feed the rays near the windows so you can get an up close look at the rays getting their feast on.
#8 Planet Jellies
As you explore Planet Jellies, you'll enjoy seven different habitats and five different species of J-fish that surround you and even swim overhead and underfoot. The Canadian aquarium features the world's largest kreisel – a tank custom designed to protect the special need creatures that can't survive in standard aquariums. You'll see jellies at every life stage – from polyp to full-grown free floater – as you're transported to the world of these delicate (and dangerous) beauties.
#9 Life Support Systems
For those that want to know how things work, this exhibit gives you all the answers you need about the life support and water mechanisms that keep the aquarium's residents safe, healthy and swimming. You'll be able to see the actual life support equipment for the creatures of the Dangerous Lagoon and Ray Bay in real time. This is a fascinating look behind the veil to see how the aquarium uses state of the art technology to ensure the health and well-being of the fish on exhibit.
Located at the base of the famed CN Tower, Ripley's Aquarium of Canada should prove a tourism boon for Toronto. If you plan to buy your tickets online, brace yourself for glitches – the flood of web traffic has slowed their ticketing system and their website at large. The aquarium will be open seven days a week, all 365 days of the year from 9 to 9 all summer, Fridays and Saturdays as well as public and school holidays.
image sources: RideBooker.com,  CondoMike.com,  GlobeAndMail.com, MetroNews.ca,  BlogTo.com,  CestLaVieMDW3437.blogspot.com,  OSixMedia.com,  CVent.com,   NationalPost.com