Soaring High in Small Spaces at Smothers Park in Owensboro, Kentucky
Posted by Sasha Bailyn on Friday, June 17th, 2016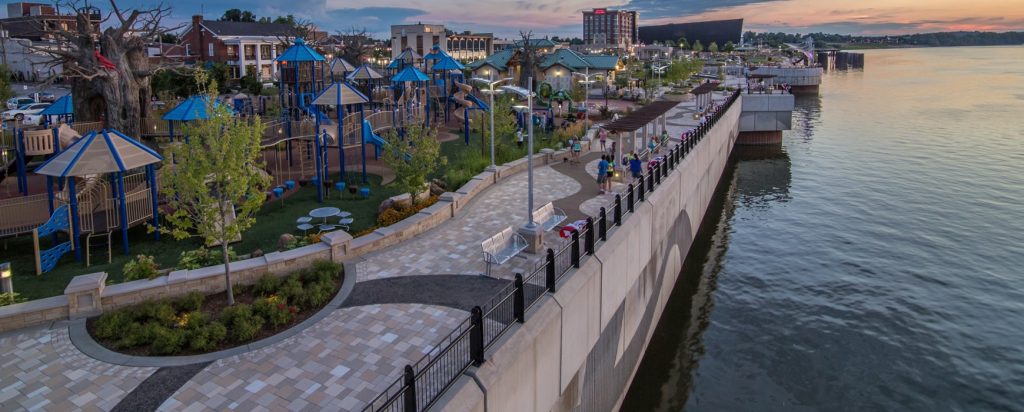 What sort of playscape can you build in a curving space that takes up less than half a city block? Imagine that the space is further constrained by a wide, riverfront walking path on one side and large structures at either end. For most urban planners, the only playscape that could fit in such a constricted space would be a sedate tot lot, designed to soothe and calm. Adventure and danger wouldn't enter into the design.
The Lazy Dayz playground in Smothers Park occupies the space I just described. Yet when my van pulls into our parking space, my children don't yawn at the prospect of sedate play for the next two or three hours. Instead, they run at breakneck speed towards the playscape, disappearing from sight as they let out exuberant whoops of joy. Clearly, the designers at EDSA were up to the challenge of this small, curving, and fairly odd little bit of land.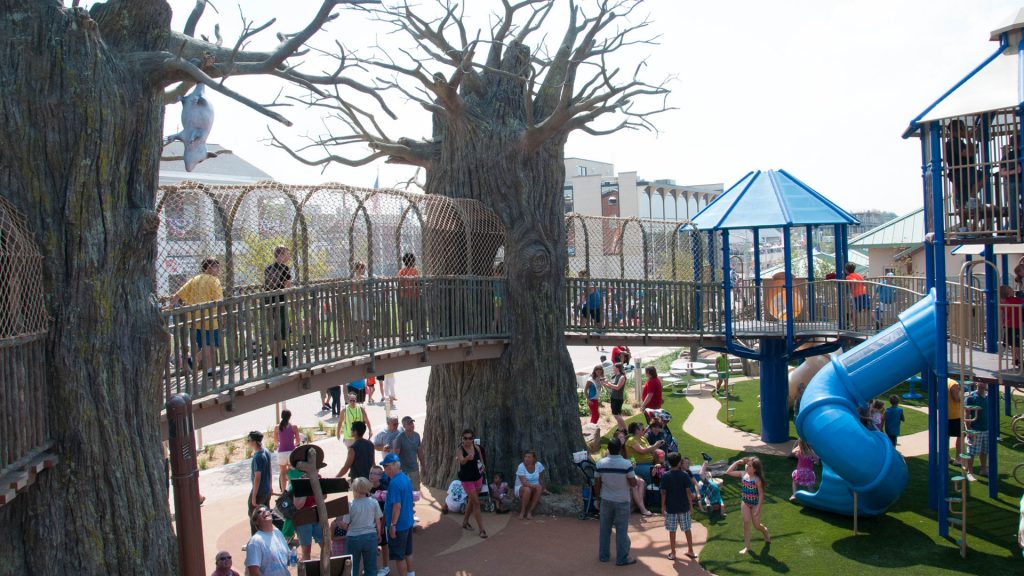 The space between the road and the Riverwalk doesn't leave much room for sprawling playscapes and wide structures, so EDSA did what architects have done in tight urban spaces since the 1880s. They built up. Their playscape focuses around huge towers that soar two and three stories above the riverfront. While playgrounds like "The Land," are popular in Europe, Smothers presents physical challenges and interesting spaces for all ages without the looming risk of a tetanus infection. Bridges, ramps, and complex climbing structures interlock to create a thrilling, multi-leveled experience that is simultaneously accessible to people with disabilities, safe enough for toddlers to enjoy, and intricate enough to keep an athletic tween occupied.
The designers didn't stop at simply creating a place to play. They also constructed a carefully balanced piece of urban artwork that pays homage to local wetlands and their residents. Oversized sculptures of local plants and animals dot the landscape as visitors perch in the trunks of towering artificial trees. The play surface may be covered in safe, rubber matting, but it's colored to look like soil, and some areas boast soft lawns of artificial grass.
When assembling this 'best in the world' playscape, EDSA also kept the needs of visitors in mind. Generous parking lines the street front, while the riverfront boasts front porch-style swings so that visitors can sit, rest, and enjoy the barges on the river and the traffic on the bridge. A splash pad provides relief to children on hot days. At one end of the playscape, a large building with a concession stand, water fountains, shaded eating areas and bathrooms offers visitors everything they need to enjoy long hours in the park.
The playground has exceeded city-planners' expectations. It draws visitors from surrounding cities and towns, and has helped revived the downtown. Businesses that specifically cater to families using the playscape, such as ice cream parlors and cupcake shops, have sprung up in nearby buildings.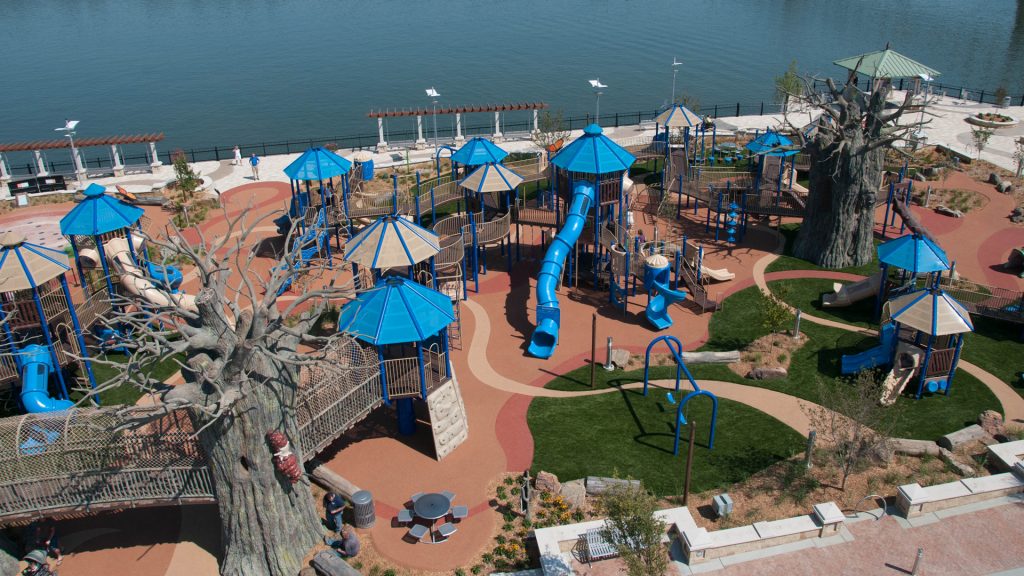 In many cities, oddly shaped pieces of land become vacant lots: weedy, gravel-filled, and ugly. By hiring EDSA to develop the thin strip of parkland along the river, the city of Owensboro created an example for other cities. Small spaces can become great spaces when you build upward and create multiple levels. With vision, an underused piece of land becomes a landmark, a wasted space becomes a community gathering space, and something that once drew garbage and weeds becomes a larger-than life sculpture that draws tourists. Lazy Dayz at Smothers park soars above other urban playgrounds because its designers dared to reach for the sky.
Images courtesy of EDSA