Experience Marketing: How Entertainment Design Helps Brands Capture Consumer Attention
Posted by Sasha Bailyn on Monday, March 28th, 2016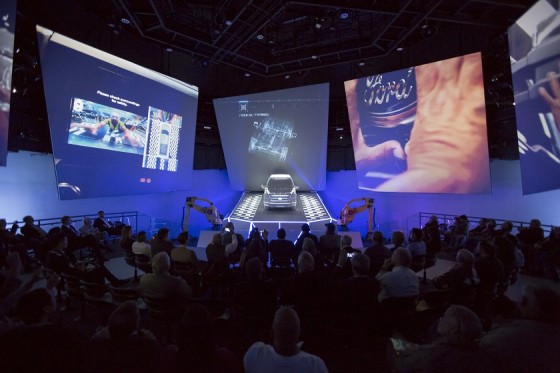 The way that brands market themselves is changing rapidly. Today's consumers are no longer satisfied with generalized advertising and discounts. Instead, they're seeking deeper, personalized relationships with the companies they support – from the cars they purchase to the beverages they drink. Experience design is playing an important role in delivering what consumers are seeking, while offering brands new tools for telling their stories.
Two brand-focused experiences are being recognized in this year's Thea Awards lineup and provide powerful templates for how entertainment design helps brands capture consumers' attention. Here's a closer look at the Manufacturing Innovation – Ford Rouge Factor Tour and Moments of Happiness by Coca-Cola.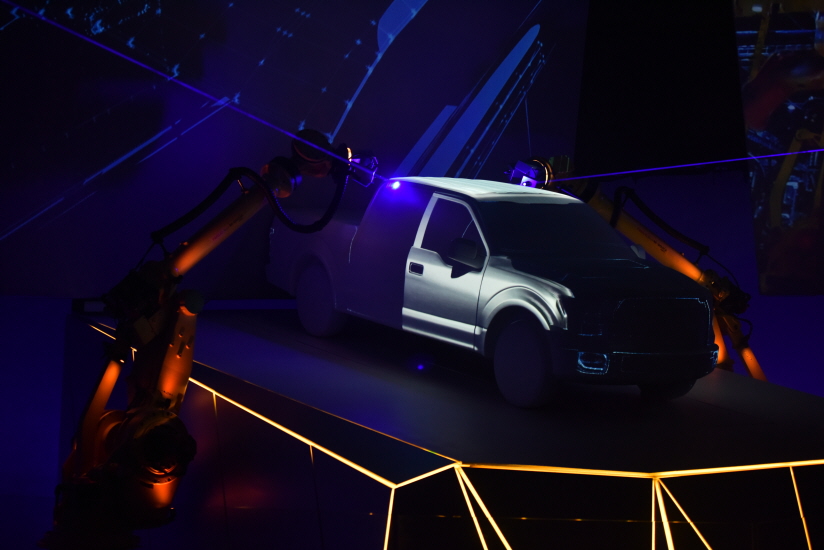 Manufacturing Innovation is a multimedia experience at the Ford Rouge Factory Tour at Henry Ford. The 10-minute show uses technology and projection mapping to help bring the brand's story to life. Multiple screens are used to support the projection mapping and are combined with factory automation robots. The experience follows along as an F150 pickup truck is created, from initial design to manufacturing, testing and finally delivery to the customer.
Seven screens wrap around the audience, with a lift in front that surprises guests when a white F150 truck rises up in front of them. This physical prop is "built," "welded," and "painted," thanks to mapped projections that synchronize with industrial robot arms to simulate these actions on the truck.
As the Thea judges noted, "It is a clever and excellent way to use the mapped projection technique in a brand experience story of manufacturing all for $4.1m.The exceptional combination of custom produced media synchronized and choreographed across seven screens with the technique of mapped projection integrated with industrial robots turns a corporate media presentation into a multimedia spectacular that leaves guests excited about manufacturing innovation. With great music, theatrical lighting, carefully choreographed projection and robotics, guests get an up-close view as a pickup truck seemingly comes together right before their eyes and is a real wow."
The goal of the Ford Rouge Factory tour is to take visitors to the heart of the manufacturing experience. The multi-sensory "Manufacturing Innovation" experience helps bring that to life. For brands learning from Ford's example, three things stand out. The first is that the experience is totally aligned with both the brand and the interests of people visiting the attraction. The second is that the experience uses storytelling to help bring the brand's unique positioning and origin to life in an unforgettable way. Finally, by using entertainment design techniques like projection mapping, Manufacturing Innovation is elevated beyond a simple film into something far more memorable.
The World of Coca-Cola, located in Atlanta, is a top corporate visitor attraction in the U.S., regularly receiving annual attendance of more than one million people. The attraction features a series of exhibits and experiences relating the history of the company, a global Coca-Cola product tasting area, and a retail shop. Coca-Cola envisioned "Moments of Happiness" as the content for the attraction's pre-show, which helps introduce the experience and gets guests in the right frame of mind. As the Thea judges noted, "The new show was created to refresh the theater and deliver a contemporary brand message."
The six-minute film is staged in the Coca-Cola Theater. The messaging celebrates special moments in the lives of Coca-Cola lovers. It focuses on "highlighting inspiring and heart-warming experiences for people of all ages and many cultures." As the judges note, there's no overt sales pitch. Instead, the focus is on delivering emotional impact before a screen rolls up and reveals the World of Coca-Cola's entrance.
As the Thea judges noted, "Moments of Happiness provides a new pre-show experience in an outstanding and memorable way. The movie's uplifting scenes, like a surprise visit home by a U.S. soldier, a young boy's first frightening approach to a girl, and a spring break impossible basketball shot by a group of college friends, combined with upbeat music, strike a deep and powerful emotional chord in guests.  There are very few dry eyes in the house, and the film combines the joy of poignant events in life with a quiet reference to the pleasures of drinking Coke. Visitors leave the theater feeling great about life. Visitor satisfaction surveys have skyrocketed and the overall attraction has a new buzz."
For brands interested in following Coke's example, the message is clear:  focus on the experience you want to create for guests. Leave the hard sales pitch for another medium. Instead, by using powerful storytelling and filmmaking techniques, it's possible to evoke the strong emotional connection that today's consumers are craving. By creating a specific mood, guests experience the "reveal" of the doors in a powerful way and feel like they're being invited into the brand experience.
Coca-Cola and Ford are just two of the best examples of a trend that's on the rise. A number of trends are converging that are encouraging brands to focus on entertainment design and where it should fit into the marketing mix. One is social media:  people are consuming more content than ever before, a lot of it highly interactive and visual. Taking product images isn't enough. In order to stand out in the sea of content, brands need to take things to the next level. Storytelling, interactivity, and technology are all the hallmarks of entertainment design – and they're exactly what brands need to accomplish their goals right now.
Another powerful factor is the buying power of Millennials and Generation Z. Consumers 35 and under are quickly becoming one of the most important buying segments. They want something different from brands than their predecessors: authenticity, engagement, warmth and personalization. Brand experiences allow companies to deliver that in a meaningful way. Millennials are also quickly becoming the largest segment in the workforce, and the prevalence of brand experiences also shows their strategic thinking at work.
From a marketing perspective, brands have moved away from advertising and promotions as their only means of outreach. The rise of content marketing has created the "brand as publisher" model. One has only to look at the number of blogs, branded microsites, and the flood of other pieces of content to see that in action. Yet, as content marketing catches on and achieves a higher velocity, brands are trying to find ways to push the envelope and stand out. Producing brand experiences – whether that's a pop up gallery or a video tour – gives companies another avenue to tell their stories.
So what lessons can companies learn from this year's two Thea recipients which are highlighted in this piece?
The power of storytelling: Human beings are hardwired for story. Brands that embrace storytelling are instantly more relatable, authentic, and interesting to consumers. Focus on your brand's origin story, what makes you different in the market, and how you influence your customers' lives. Entertainment design can help brands find unique ways of accomplishing these goals.
Surprise and delight: A roller coaster that delivers a static ride or a dark ride without a plot twist would be considered a theme park flop. Surprising and delighting consumers is a new idea to some extent, in a business environment where brand consistency has been a long held value. Experience design is helping brands push the boundaries of their relationships with consumers, and bring something fresh to the conversation.
Relationships with consumers aren't static: Moments of Happiness is a great example of the evolving relationship that consumers have with brands. The underlying message of "We'll be with you wherever you go" is beautifully done. Experiences let brands convey their ability to grow with consumers through different parts of their lives. Imagine how that same principle could be applied to an experience created by a financial advisor or a restaurant, for example.
Finally, it's important to note that the big lessons here aren't just for brands. There's also a key takeaway for entertainment and experience designers. Brands are likely to become one of the most important clients for people in our field in the years ahead. With bigger budgets and different goals, brands of all sizes will provide the chance for designers to create unique experiences, experiment with storytelling techniques, and pioneer new technologies to help bring these stories to life.
Images sourced courtesy of Coca-Cola and Ford