Zombies and VR Coasters: IAAPA 2015's Biggest Announcements
Posted by Sasha Bailyn on Wednesday, December 2nd, 2015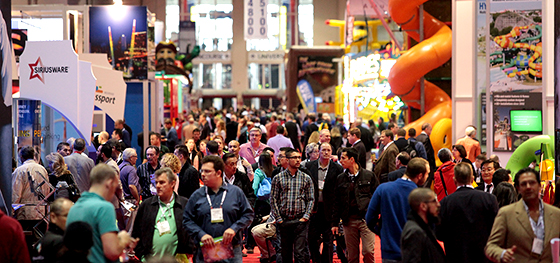 The 97th IAAPA Attractions Expo featured more than 1000 exhibitors and 28,000 entertainment design professionals from around the world coming together to learn more about the industry's hottest trends and innovations. IAAPA offered everything from a trade show floor where companies announced their latest products to more than 100 educational sessions. Attendees and fans are especially interested in one big question: what's next for theme parks? Here's a closer look at some of the most exciting announcements to come out of this year's IAAPA Expo and what they could mean for the future of entertainment design.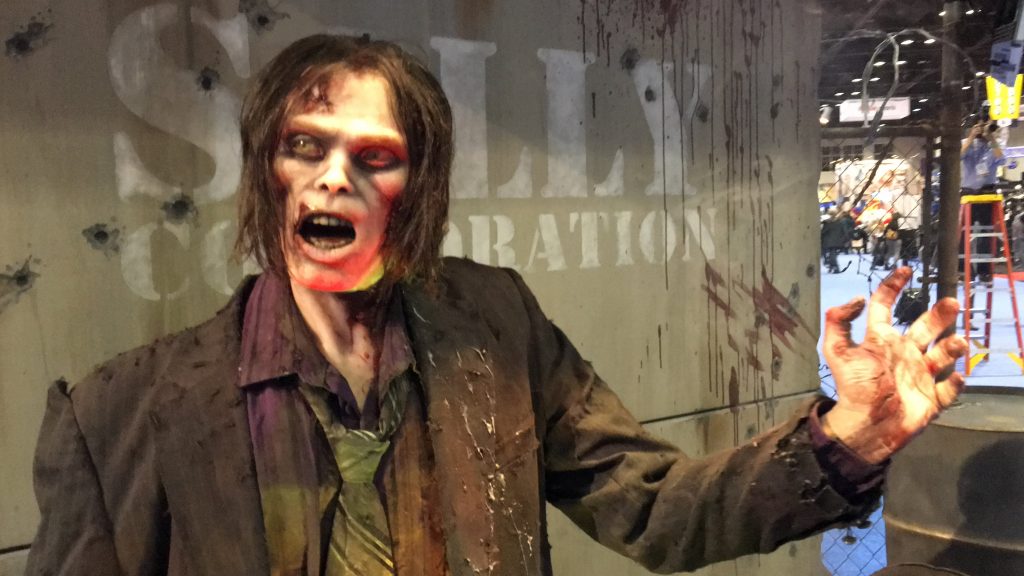 A New Walking Dead Themed Dark Ride
Zombies were a hot theme on the show floor, with products ranging from haunt attractions to zombie plush toys. One of the biggest buzz generators of this year's IAAPA show was an announcement from the Sally Corporation that they've partnered with AMC Networks to develop a Walking Dead themed attraction. Battle for Survival is a six-person shooter dark ride that will feature a range of familiar characters and settings from the show, as guests battle walkers (aka zombies) in an attempt to survive the Apocalypse. While it is unclear which park the ride will eventually call home, fans and industry pros alike are taking notice. Check out our full coverage of Battle for Survival to learn more.
Virtual Reality Coasters Dominate
Virtual reality is a trend that's on the rise, as we've explored in multiple pieces over the past year. Vendors announced exciting developments that will apply VR to the theme park world. Mumbai-based company Smaaash debuted their Finger Coaster technology, which lets users draw a roller coaster and then experience it virtually. In an interview with Attractions Management, the company's chief technology officer described it as a "make your own ride experience." The idea of personalizing the theme park experience is intriguing, especially when there's so much emphasis on personalization in other areas of marketing and technology.
Mack Rides, meanwhile, offered IAAPA attendees a preview of their much discussed VR Coasters (right now, Cedar Fair has exclusive rights in the US). The VR Coaster concept pairs virtual reality glasses with existing rides and gives riders an alternate experience. For example, guests riding a roller coaster would be treated to an animation of a post-apocalyptic world that moved in tandem with the spins, flips and inversions of the ride. With the increasing availability of VR-based tools such as Oculus Rift and Google Cardboard, VR attractions and attraction modifications are bound to be a hot trend in the years ahead.
LEGOLAND and Triotech: Ninjajo the Ride
LEGOLAND Parks has announced the launch of a new ride based on the Ninjajo cartoons that will open in California this spring. Produced by Triotech, the attraction integrates Maestro technology that lets users control the ride through hand gestures – no controller needed. It's a competitive, interactive four minute ride where guests use chopping motions to rack up points while acting like ninjas. A flick of the fingers sends streaks of lightening at blocky, LEGO-inspired bad guys. The ride will be geared toward younger audiences and will feature advanced 4D theming effects.
There were numerous other announcements worthy of mention. White Water West continued their focus on interactive water attractions. Their latest releases include the AquaPlay, a multilevel play structure and the next generation of slide boarding that integrates gaming and waterslides. A significant amount of interest surrounded  Skyplex Orlando, an entertainment complex that's scheduled to open in 2017. Extreme Engineering showcased the Cloud Coaster, a next level zip line that lets users zoom down a track, while wearing a harness, going around sharp turns, up hills, and through controlled down-hill speeds. Numerous companies debuted new ride cars and coaster-related technology.
This year's IAAPA ride raised the visibility on several important developments for entertainment designers: next generation IP-attractions, virtual reality and a higher degree of interaction. Technology and theming are blending to create attractions that promote engagement, and companies are focused on producing thrills while also drawing guests in with great storytelling. From zombies to ziplines, it's promising to be an exciting year for fans and professionals alike.
Images sourced courtesy of IAAPA, In Park, LEGOLAND, YouTube