Entertainment Design in Your Own Front Yard
Posted by Sasha Bailyn on Tuesday, December 22nd, 2015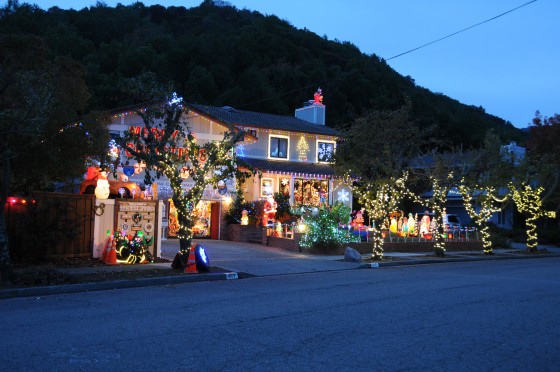 Few jobs seem more fun than Disney Imagineer or dark ride designer. Yet an actual career in entertainment design sounds more like a fantasy than a real opportunity to most people. The skills, imagination and creative vision needed to make today's big rides happen can be intimidating to even the most dedicated themed entertainment fan. However, the holidays offer opportunities for everyone to bring their own creative visions to life with entertainment design in their own front yards. Efforts can range from minimalistic to grand-scale themed displays. Consider the case study of Les Mize and his family's well-known Mickey Mouse Christmas House in Marinwood, California.
The Mickey Mouse House was the brainchild of Les Mize, a native of Marin with a lifelong passion for all things Disney. He started collecting Disney and Mickey Mouse memorabilia in the 1970s after visiting Disneyland. Combined with his love of Christmas, Mr. Mize's collection has expanded to hold more than 10,000 Disney and Mickey-themed objects today. His collection ranges from fine art by artists that worked directly with Walt Disney to collectibles and rare games.
Mr. Mize is still an active collector. In fact, his love of Mickey Mouse is so pervasive that he's always sporting a Mickey watch, necktie, or socks during his workday in the commercial printing industry. His office is a favorite stop on plant tours so visitors can check out his in-office collectibles. But it's at the holidays, when the Mickey Mouse Christmas House is in full swing, that Mize's collection and passion stands out the most. His wife Patty oversees the decorations. The couple's six children and many grandchildren have taken over the tradition to keep their family's vision alive.
Today, three generations come together to bring the Mickey Mouse Christmas House to life. It takes more than 21 full days of decorating to create. With four decades of extensive Christmas decorating experience and collecting Mickey Mouse memorabilia, there's considerable expertise at play. In the outside display alone, there are more than 200,000 lights on the house. The House's two-windowed garage display contains over 400 pieces of Mickey Mouse paraphernalia. In the three to four weeks the exhibit is live, the house will host over 10,000 guests. Team Mize's work is so extensive that it has been featured in national media and broadcast programming.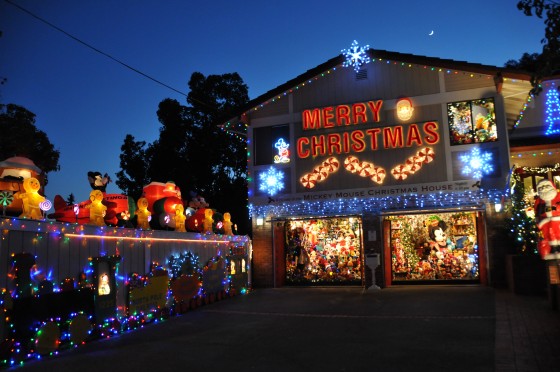 Working with such a rich set of ideas, characters and worlds has led the Mizes to balance Disney classics with the latest offerings. In an interview, Eileen Mize shared some of her family's insights.
"We take inspiration from new Disney movies, attractions, and pop culture. Over the years we have always tried to include a vignette or characters from the newest movie — some prominently featured with the life size Mickey in the garage scene," says Eileen. "Pixar has given us lots of fodder for decorating ideas. We have a second story window called 'Andy's Room' with Buzz and Woody and 'Operation Christmas' underway, complete with green army men scaling the exterior of the house to bring light to Andy's room to decorate his tree. There is also a Radiator Springs vignette with local connections that provides a great photo op for people."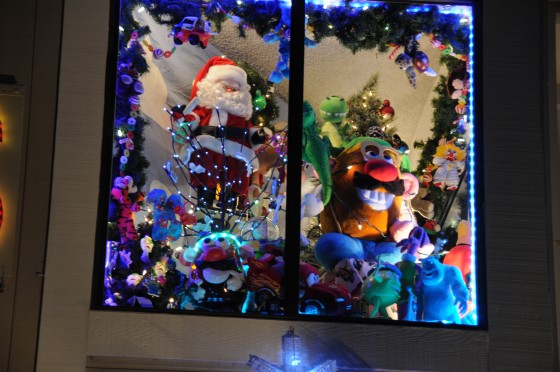 This year's display also includes nods to Inside Out, and Star Wars Land. Mickey is wearing a construction hat and overlooking park plans with Darth Vader. Staying relevant gives repeat visitors something to enjoy. "We always try to keep art current. People tell us they have fun looking for whatever is new each year."
Passion in the community is also important. "Finally, the other piece of inspiration comes from our Marinwood community – everyone is so supportive and appreciative. Sometimes when trick or treaters ring the bell at Halloween they say "We love your lights at Christmas" even before they say "trick or treat." It's the spirit and joy in the community that definitely helps propel us to keep going – because, it is a lot of work!"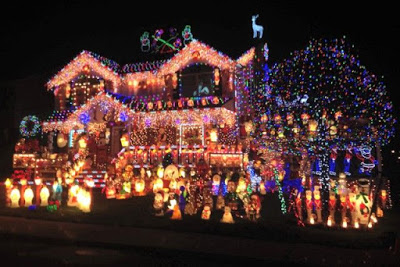 The commitment to decorating for Christmas is fierce across the country. It's so fierce, in fact, that that it spawned a reality show called The Great Christmas Light Fight. The show features interior designers and decorating experts judging massive displays around the nation. Common themes range from Gingerbread houses to the North Pole.
But creative designers don't let traditional approaches to the holidays cramp their style. Slayer Bob, a Southern California holiday icon, has a popular counterculture display that mixes heavy metal with dancing lights. Another California designer, music teacher Tom BetGeorge, combined his love of music and Star Wars into an homage just in time for the latest movie complete with light saber duels and classic songs from the franchise.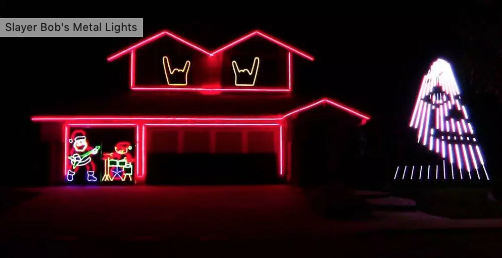 The most innovative designs are telling a story. "Storytelling and attention to detail play a critical role in bringing the house to life. We, as decorators, have fun with is the concept that everything tells a story. The position of everything in and on the house tells a story. There is real intention and purpose to every placement from the tiniest bulb to the largest figure – so, we would hope that our viewers could pick up on the stories being told. Disney is a master at storytelling – and that inspires us – that, and magic," says Eileen Mize.
The Mizes have some tips for would-be holiday entertainment designers. One is time management. "Plan for enough time – every little cord and light takes time. Start small and then expand."
The second is to find something that uniquely expresses your vision and interests. "Pick a theme or concept that inspires you and makes you happy – then share it with the world through display and lights. If it's your passion, then that will come through in the viewer's experience."
Design on the scale of what the Mizes have achieved can be intimidating, although it's helpful to remember that it's the result of decades of planning, collecting and practice. Their bigger message is an important takeaway: if you've ever dreamed of being an entertainment designer, the holidays provide the perfect canvas to express your vision. Start with a passion or interest that truly moves you. Use storytelling and an attention to detail to help bring that idea into the world.
Images sourced courtesy of the Mize family, Metal.net, Before It's News