You Have Our Permission: Putting A Little Soul into Experience Design
Posted by Sasha Bailyn on Wednesday, November 11th, 2015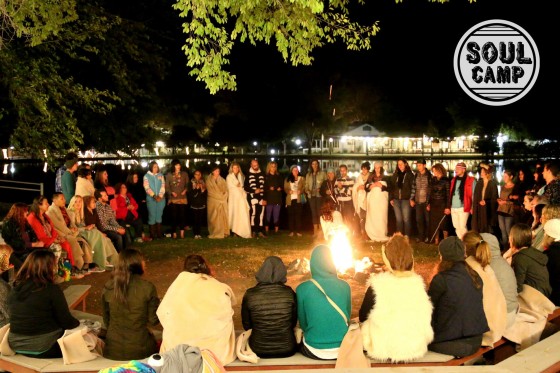 On the lake, a group of grown ups chant "Om" while balancing on stand-up paddleboards. Outside the dining hall, another group is making dream catchers. Nearby, joyful shouts and giggles can be heard from the trampolines and water slides. These are the sounds and sights of Soul Camp, an adult sleepaway event in California's Wonder Valley. At first glance, Soul Camp appears to be like the summer camps of childhood, complete with camp counselors, marshmallow roasts, and a talent show. But a closer look reveals a deeper experience that goes beyond kid-like fun.
Two weeks ago, I attended Soul Camp. As a member of the theme park industry, I went in with a certain perspective. Firstly, I believe that creating a sense of "magic" is the ultimate goal of entertainment design. With every dark ride, themed restaurant, or interactive theatrical production, designers hope to "wow" the audience and make a lasting emotional impact. The best projects happen to be the ones with the largest budgets and the best special effects (such as Wizarding World of Harry Potter or most any Disney theme park ride). But it's not the budget that causes it to succeed; it's the feeling the attraction gives to its visitors, giving them permission to imagine they were in another time and place, maybe even in another body. After Soul Camp, I realized that, while everything I just said is true, that feeling begins with the ride's creators – with the intention they bring to the project when it's still just a blank piece of paper.
While not a theme park, Soul Camp has all the makings of a well-honed experience. In fact, Soul Camp serves as a reminder to entertainment designers of the golden rules of magic-making:
Permission to Play 
At Soul Camp, play comes in the obvious forms of athletics (including BUTI, Hatha, and other forms of yoga, dance, and bootcamp classes), and also in the form of camp activities, such as team-building games, arts and crafts, and a talent show.
But the camp also pushes boundaries on play, giving campers the opportunity to explore the psychological and even metaphysical with classes like Explore + Play With Your Intuitive Super Powers, Adventures For Your Soul, and Emotions: Energy in Motion.
Soul Camp embodies one of the traits you would find in the best thematic environments: guests of all ages feel that they have permission to play along. At Orlando's Wizarding World of Harry Potter, local students have been known to do their homework in The Three Broomsticks dressed as Hogwarts students. In Disney parks or at events having anything to do with Disney, adults and children alike dress up as their favorite characters. Just as these venues inspire participation, Soul Camp sets the tone for creative and introspective participation. After all, permission to play is really permission to feel — permission to be lighthearted and in tune with one's natural whims and desires.
EQ Factor: Emotional Connection
One thing that Soul Camp does especially well is create a safe place to come out of one's shell and connect with others. As a technology-free, drug-free, alcohol-free zone with several deep and sensitive topics on the roster, it can be somewhat daunting at times, even for the most experienced sleepaway camper.
Creating a safe space for socializing is an art form, and one that Soul Camp leadership does very well. Camp squads, or "families," have apt names liked The Loved Ones or The Soul Divers. Camp-wide signage reminds passers-by that they are amazing, supported, radiant, and beautiful people. Dinner seating is structured so that no one has to feel left out. The counselors and teachers hold a strong torch for inclusion and acceptance, which reverberates twice as strong from the entire community's participation. The resulting emotional web of support sets the stage for not just new friendships and connections, but also genuine inner exploration.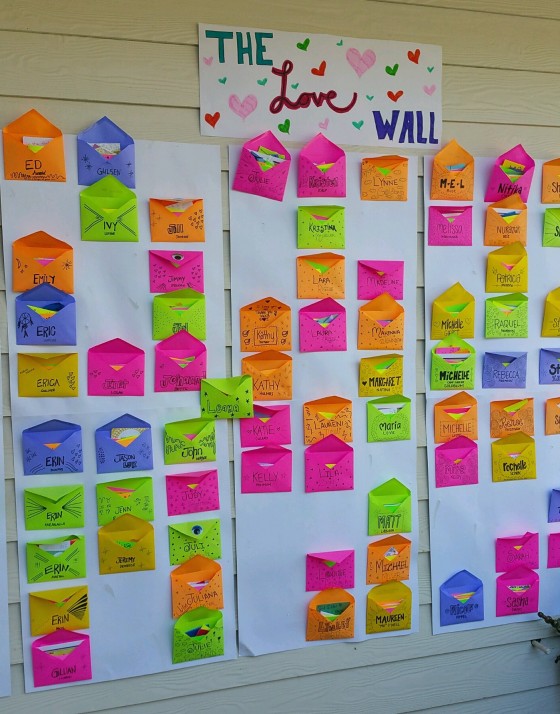 The takeaway for entertainment design is not to underestimate the importance of good cast members. A well-designed experience has a cast that thoroughly embodies the theme or story of a place. But the experiences that never leave guests' hearts and minds are those with a special EQ factor, wherein cast members hold emotional space for the audience to feel acknowledged on an individual level and safe to play and participate.
Compelling Narrative
While there is no interactive scavenger hunt or fantasy narrative underlying Soul Camp, the experience is rich with stories: those of the teachers who have walked incredible life paths, and those of the campers, who are taking on paradigm shifts in their lives and often charging headlong into the unknown. Soul Camp reminds us that our own stories are rich and fertile for exploration and expression; no extra flair is needed.
Whereas theme parks have nighttime spectaculars, Soul Camp has Gratitude Ceremonies before dinner. In place of Mickey Mouse ears, Soul Camp is covered in tie-die swag and signage. And just like a good theme park, Soul Camp is full of roller coasters and big themes, but the adventure takes place within instead of outside oneself. As anyone who has seen Inside Out or done any amount of introspective work can attest, the inner world is an ever-changing theme park in and of itself, complete with haunted houses, rides that need fixing, and character meet-and-greets.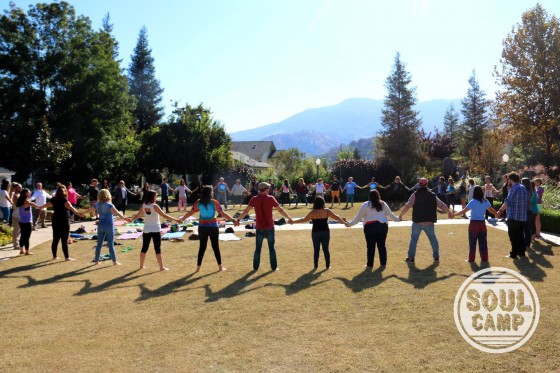 It takes a top-notch team of people to hold space for exploring our own dark corners, confronting our personal bad guys, and truly becoming the hero of our own story. At Soul Camp — like at any world-class themed destination — it's all about the guest experience, which is made magical with careful programming and a thoughtful cast of teachers and counselors. Similar to a theme park, Soul Camp is an experience not typically found in our day-to-day lives; but the difference is that at Soul Camp, the takeaways can actually be integrated into real life; the magic can come true.
Images courtesy of Soul Camp and Deviant Art