Why Dinosaurs Are Hot Again
Posted by Sasha Bailyn on Tuesday, May 24th, 2016
The classic grade school dinosaur field trip was stuffy: it most likely involved memorizing scientific names, studying artist renderings, and perhaps, if you were lucky, checking out some bones at the nearby museum. For today's dinosaur lovers, experiences have evolved beyond the paleo era and embraced a range of new technologies. From virtual reality to immersive film, it's possible to get up close and personal with dinosaurs in a whole new way.
Since the release of Jurassic Park in 1996, the dinosaur experience has been reimagined beyond the static museum lobby skeleton displays.  During the game-changing film, dinosaurs seemed to come to life and with an incredible story behind the CGI, it's no wonder why people fell in love. It's not often that a 4th installation in a movie franchise dwarfs the original, but that's exactly what happened with Jurassic World. The film released June 12, 2015 in 60 countries and went on to generate more than $1.6 billion in box office revenue. It now stands as the fourth highest grossing film of all time.
The latest foray into dinosaurs on the silver screen only fueled their broader popularity. At the same time, new discoveries being made in academic and research circles are leading to a host of engaging museum experiences. Alberta's Philip J. Currie Dinosaur Museum has been garnering awards, and was a Conde Nast top pick for museum openings over the last year. The Dinosaur Museum has received eight different awards since it opened, for everything from curatorial innovation to design. The museum builds on two iconic experiences associated with dinosaurs: excavating them and "walking among them" thanks to augmented reality.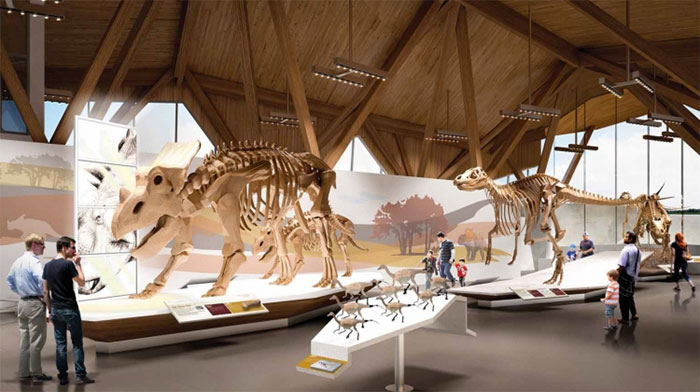 Focusing on Alberta's rich paleontological heritage, the museum's galleries explore different elements of the region's dinosaur connections. In the Fossil Lab, hands-on activities help visitors understand how scientists are constantly adapting new techniques to study ancient life, including the use of 3D scanning and printing, microscopy, and isotopic analysis. Augmented reality technology on tablets allows visitors to view different bones in the collection to see what dinosaurs would have looked like, and learn more about their ecosystems and habits.  A standout feature of the Currie Museum are the helicopter tours, which take guests over one of the densest fossil beds in the world and uses a similar tablet-based augmented reality technology to layer information about the history, flora, and fauna of the region.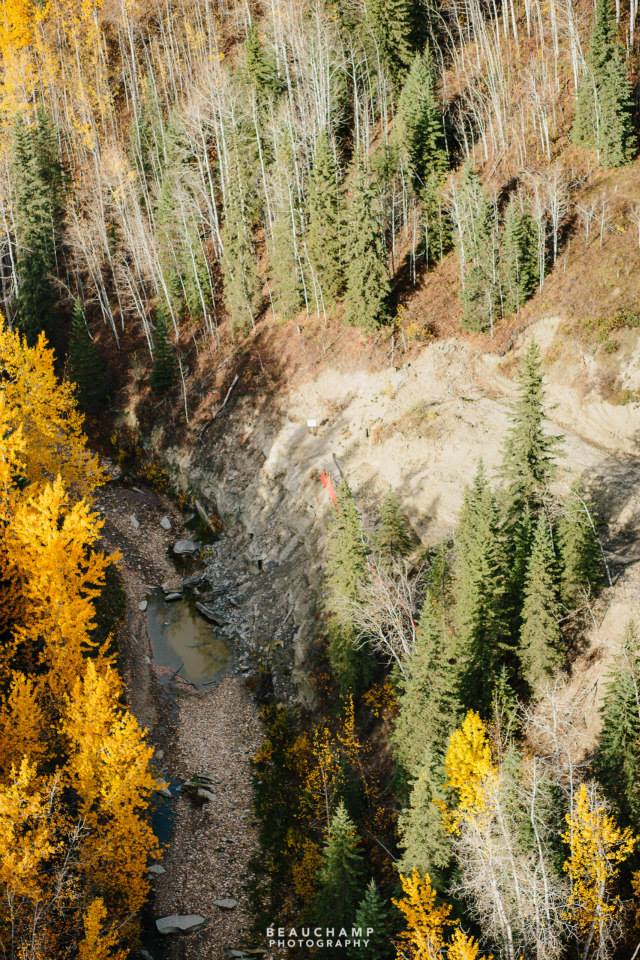 Guests don't have to be in a museum to experience immersion into the world of dinosaurs, however. They are popular fodder for the increasingly popular virtual reality platforms that hit the market this year. A companion piece to Jurassic World, the Jurassic World Apatosaurus experience was envisioned by virtual reality artists Felix and Paul (with assistance from Industrial Light Magic).
German game developer Crytek has recently released a short video of their "Back to Dinosaur Island" which demos to the public via Steam for free.  In this version, you are a baby dinosaur, watching from a nest, as a gang of T-Rex's wreak havoc on the area.  There's even a 360-degree experience from the BBC called Attenborough and the Giant Dinosaur, which puts the viewer in the middle of the wilderness as large dinosaurs pass by. Virtual reality experiences bring something unique to the field, by providing an opportunity to really grasp the immensity of these creatures in a very intimate way.
Theme parks have also brought dinosaurs to life through large-scale attractions.  Universal Studios in Orlando has opened up an entire Jurassic Park world full of hands-on activities at The Jurassic Park Discovery Center®.  The park has done a created interactive activities like Test Your DNA, which lets kids see what dinosaur they're closest to and learn about certain species. Visitors can visit a dinosaur nursery to watch eggs hatch and experience how dinosaurs might have seen and heard the world around them.
Dinosaur fever is also international, as the Lost Kingdom opened last month in the United Kingdom to rave reviews. Located next to New Forest in Hampshire, UK, the Paultons Family Theme Park has completely devoted their space to dinosaur-themed attractions.  With over 60 different attractions and rides focused on all things prehistoric, it's one of the most expansive options in the world. The park features rides ranging from themed roller coasters to animatronic dinosaurs in its Alive section. It's family-friendly, with a strong focus on kids.
Dinosaurs have been making a comeback, from big-screen film to new museum attractions. All of these attractions have a few things in common. Today's passionate dinosaur fans want to move beyond dusty bones. Experiences have to be powerful, immersive and larger than life. Guests don't want to just hear dry, boring facts; they want to really see what the latest scientific advances can tell us about the history of these fantastic creatures, while feeling the ground rumble underfoot as they go by.
From an entertainment design perspective, dinosaurs represent something special. They're a great example of how a popular topic can be reimagined, reinvented, and modernized for different audiences as better technology and information becomes available. Science, technology and design will continue to combine and push the frontier forward for how we learn about and enjoy these striking creatures. For entertainment designers, this creates the opportunity to offer guests more realistic, intense, and engaging experience.
Images and video sourced courtesy of YouTube/BBC, The Lost Kingdom, SI, Currie Museum