How Skull Island: Reign of Kong is Turning the Kong Narrative On Its Head
Posted by Sasha Bailyn on Wednesday, January 13th, 2016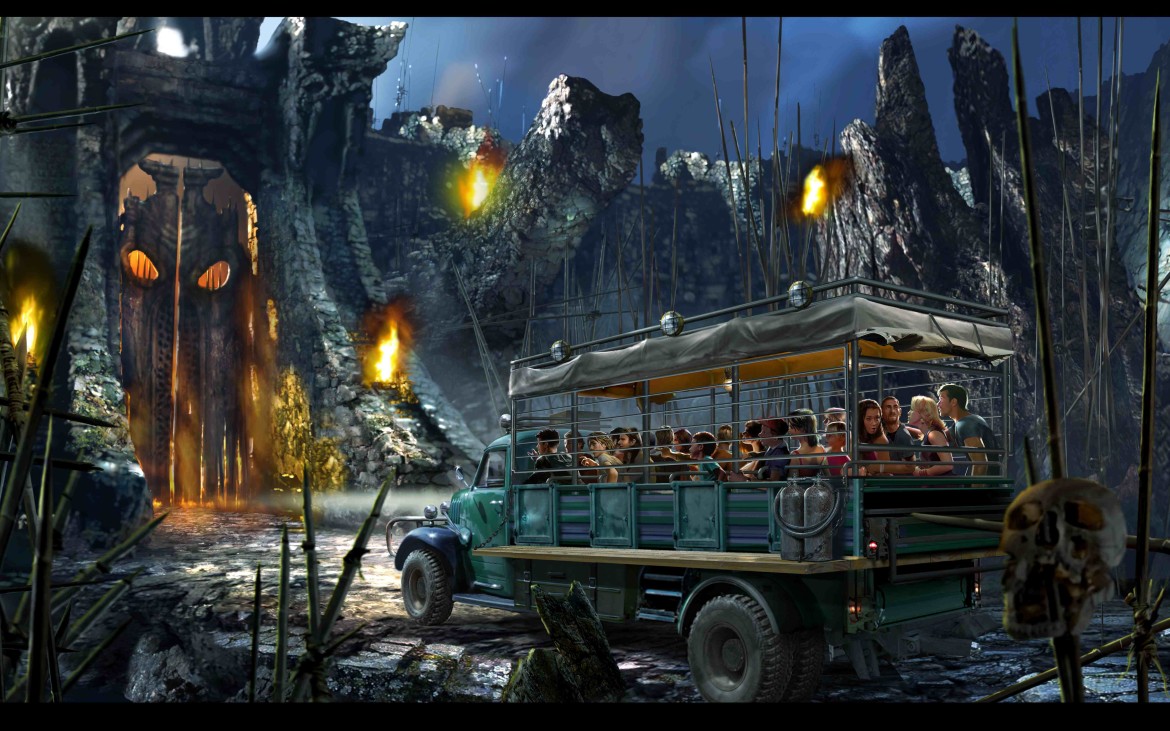 This summer Universal's Islands of Adventure is debuting a much-anticipated dark ride, Skull Island: Reign of Kong. Fans are excited about the latest incarnation of the Kong story. What's fascinating from an entertainment design perspective is that this ride is turning the traditional King Kong narrative on its head. Rather than watching a giant monster rampaging through a city, guests journey to meet Kong on his own turf with a visit to his jungle island sanctuary on Skull Island.
Universal offers guests the following juicy preview, "As you journey deep into a mysterious island, your 1930s expedition is swarmed by enormous prehistoric predators. Your only hope is the most colossal ape ever to walk the earth. As the gargantuan beasts fight for dominance, you will just fight to survive. Skull Island: Reign of Kong – A multi-sensory, multi-dimensional new ride for your life."
Skull Island: Reign of Kong is a standalone story within the Kong universe. Kong has been a presence in the Universal parks since the Hollywood tram tour in the 1980s. His reign continued with Kongfrontation and King Kong Encounter, which have both been shuttered. Director Peter Jackson was part of the team weighing in on creative direction. While Kong has a long history at Universal parks, the latest ride is more technologically sophisticated, immersive and advanced in its storytelling than predecessors. The features include massive animatronics, physical scenes to create settings, and projection screens.
Reign of Kong has been described by people involved with the project as massive. Everything is being done on a tremendous scale, and that scale is part of the guest experience. Guests enter a themed queue and become part of a 1930s expedition searching for prehistoric creatures. In the queue, guests proceed through a jungle environment complete with hints that a monster is coming their way. Some of the hints come from the physical environment; others through a radio broadcast playing in the area.
Riders are loaded into a 25 person vehicle that seats guests in a caged canopy area, to help protect them from Skull Island's denizens. The vehicle approaches a large stone wall, and temple doors swing open as the guests enter the attraction building. During the ride, the vehicle makes its way through a series of caves and underground areas that are filled with prehistoric creatures. One aspect that's interesting is the transition from wide open spaces, to narrower settings that play up the tension. Kong fights off enemies to let guests make their escape. One of the particularly memorable scenes is hinted to be a battle between Kong and the ride's ultimate bad guy at the end of the ride.
With the ride slated to open in Summer 2016, it's interesting for several reasons. One is how the team at Universal Creative has chosen to position the ride. Instead of seeing Kong as a chained captive rallying to get free, you're seeing him as a defender and master of his own territory. The combination dark ride and movie drive through attraction gives a different perspective, one that's potentially more interesting to modern audiences. At the same time, it's a completely fresh storyline that gives the creative team room to explore all new ideas around story and design.
In a larger sense, Skull Island: Reign of Kong is an interesting project because it raises the question of which properties theme parks can give new life to by finding bigger or more modern narratives. Could approaching old stories in fresh ways or giving new depth to familiar characters be a key strategy for keeping classic attractions and stories relevant? We think so and are excited to watch as industry leaders take notice and incorporate this idea into future ride development.
Images and video sourced courtesy of Universal and YouTube