New EA and Carowinds Partnership Brings Video Game IP to Parks
Posted by Sasha Bailyn on Friday, February 5th, 2016
Intellectual property partnerships have been a hot topic in the entertainment design world this year. The success of Harry Potter at Universal Studios and the impending development of Star Wars, Hunger Games, and other attractions has parks on the hunt for the next big opportunity. Theme parks in particular are finding ways to adapt beloved movie, comic book and YA book series franchises into record breaking roller coasters and immersive dark rides. A built-in fan base can create an infusion of guests, press attention, and revenue for parks looking for ways to stay relevant.
A new partnership between video game producer Electronic Arts and the Carowinds theme park aims to bring the Plants Vs. Zombies world to life in a new attraction called Garden Warfare: 3Z Arena. Global video game revenues have been estimated at a staggering $100 billion dollars plus annually, indicating the potential for a huge and active market that would flock to consume these attractions. Theme parks that put their own unique spin on the gaming experience stand to capture some of that economic value and fan interest.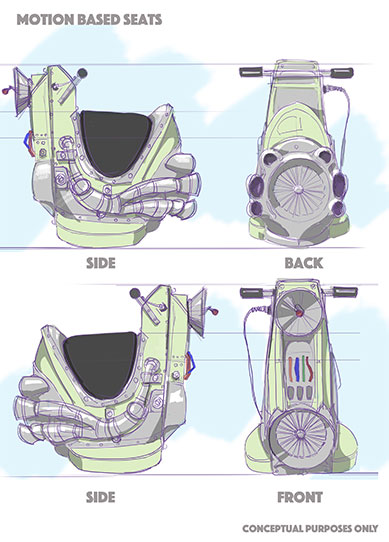 Plants Vs. Zombies: Garden Warfare 3Z Arena is scheduled to open later this year at Carowinds. Carowinds is currently transforming their onsite Action Theater into an "intra active" attraction that's being described as the first of its kind. Teams of two to 34 people will battle it out during the five minute ride, and 3Z Arena is expected to accommodate up to 700 visitors per hour. Each team playing represents either Plants or Zombies.
The new attraction is exclusive to Carowinds, and will embrace the Plants Vs. Zombies style on tongue in cheek humor. The franchise is described as "a hilarious and over-the-top shooter videogame series that drops you into a crazy, all-out battle between plants and zombies in their fight for suburbia." The latest game in the franchise, Plants vs. Zombies Garden Warfare 2, is launching later this year in tandem with the attraction.
Carowinds has created what they're describing as "an intra-active experience which means the game allows players to interact with the opposing team's screen." During the game, guests step inside the state-of-the-art Plants vs. Zombies Garden Warfare: 3Z Arena complex. The complex has been designed to be a gamer's paradise: 3-D technology, massive screens, surround sound, and motion-based seats. Teams compete during a five minute battle, where they have to shoot blasters at a massive screen to rack up points. The storyline takes the form of a backyard battle, where the zombies have taken control and plants are on the attack. There's a well-developed storyline with characters that include Super Brainz, a zombie hero and 80's action movie star, and a bounty-hunting orange from the future. The quirky storyline and ultimate gaming setup combine with a points tracking system to let guests keep track of their progress. In short, it promises to be lighthearted, addictive, and have a high repeatability factor.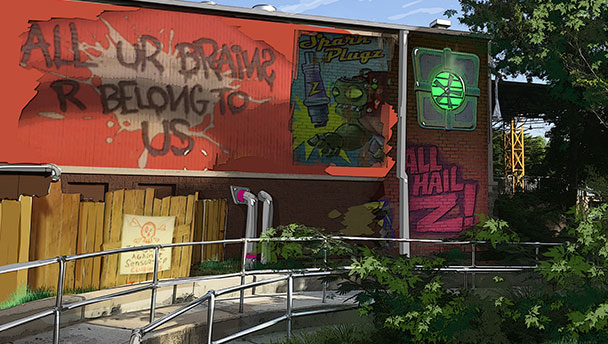 The partnership between EA and Carowinds raises an interesting question for parks looking for new opportunities for immersive experiences. In many ways, theme parks are competing with the realism, high engagement levels, and visual content of video games. Video games have shaped the expectations of younger guests vis-à-vis their entertainment and set the bar high for what makes an enjoyable experience. Immersion, visual content, and interaction points like shooting are turning up more and more in attraction design. However, translating original concepts or worlds that exist in other formats and "gamifying" them can be a challenge.
Partnerships with existing game companies create the opportunity for theme parks to play on the popularity of today's hottest video game franchises. Instead of focusing on original content generation, theme parks have the opportunity to scale up the gaming experience with higher quality sounds, visuals, and more. Interacting with bigger groups in real-time changes gaming into an experience that can't be replicated at home. We expect to see a flood of these gaming and park partnerships in the future.
Images sourced courtesy of Carowinds and Electronic Arts.